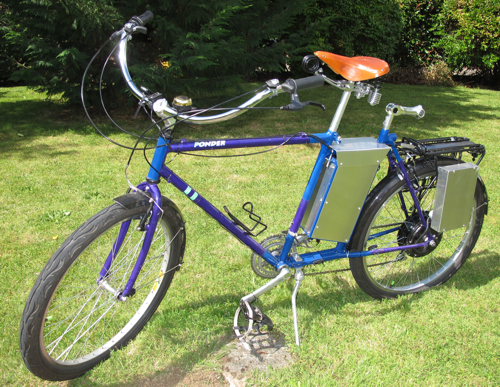 This project started as a mountain bike with a Crystalyte 408 and 48v 10ah SLA batteries. The ride was very poor with the batteries on the rear rack, it was top heavy and very unstable. Another problem was that the batteries weren't secure. Every time I parked on the street I would have to remove the batteries and carry a 30 pound bag around.
The fix was to lower the center of gravity by moving the batteries down toward the center and putting them in a box so they would be more secure. This required chopping the frame and extending it to make room for the batteries and building a box for them.
Some of the features that are an improvement over the original design are:
• Better weight distribution for a more stable ride
• Battery and controller are secure in their own boxes. The boxes are mounted on the frame.
• Most of the wires are hidden from view
• A handle behind the seat makes moving the bike and lifting the bike up stairs easier.
• The key switch and charging connector are cleanly mounted on the battery box.
• It looks more polished and complete with the components in boxes.
I really like this bike, it's my favorite ride at the moment.