Hi All,
I've got 8ea 12V AGM Batteries.
I'll be using these in Series Parallel to supply 24V
to my motor (This is on a bicycle that I'm converting to electric).
I only have a 12V charger.
It's an Iota 12V-15A with QD4 three stage charging, so I'd like to use it to maintain my AGMs.
I made this drawing on AutoCAD and the translation to JPG didn't turn out very well, but I think you can still see it.
Please take a look at it and let me know if this will work to do this. It appears to me that I can do this with one DPDT switch, what do ya think?
Oh, one more question, will this hurt a 24V controller or do I need to disconnect the controller when charging.
It's a Navitas 100-36 (24V or 36V) Controller?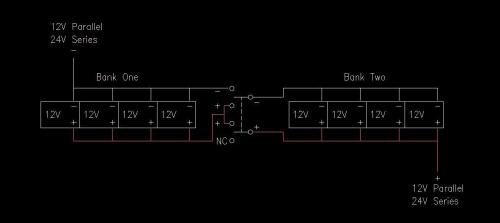 Thanks for your help!
Dave