May 16, 2007
From: Fernando Pruna
This is an EVTAMERICA UPDATE for THE Z-20 WAITING LIST CLUB.
The Z-20 is still set to make its debut in the US market in the year 2007. Our timeline has been changed and our projected date of delivery has had to be rescheduled to July-August. Based on our new timeline we will therefore be asking for deposits in June 2007.
The reason for our delay is that we are in the process of testing a new improved engine that will significantly increase the Z-20's performance and reliability. In harmony with our policy to offer the best in technology as it is developed and tested, we preferred to delay delivery in order to install the new engine on the Z-20.
We feel that we have made a right decision that will benefit all future buyers of the Z-20.
Price to those on the waiting list will be honored and not change and the functionality and reliability of the Z-20 will be improved. Top speed will remain at 45 miles per hour.
A more detailed update with specifics will soon appear on our website www.evtamerica.com which we understand has become outdated as a result of this development.
It has always been our goal to manufacture the best electric motorcycle available in the market today at the most affordable price.
Owning a Z-20 motorcycle should convey an unequivocal sense of pride and satisfaction. We are putting all our effort in accomplishing this objective.
EVTAMERICA apologizes for any inconvenience resulting from the announced delay. We do not foresee any future delays and feel that we will be able to comply with the announced agenda.
Assembling the Z20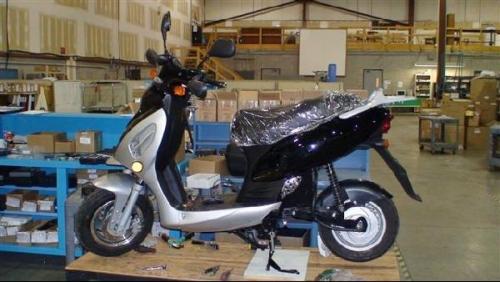 Only problem with this picture is there is only one shown being assembled?
So the wait continues.