I've been refurbishing a Vego 600 .. I originally got the scooter over three years ago and have been fiddling around with it ever since. I finally decided to get serious about it and have gotten it into a pretty decent shape. I'll post more about it elsewhere but I wanted to do this part on the lights, since I asked about it a couple days ago.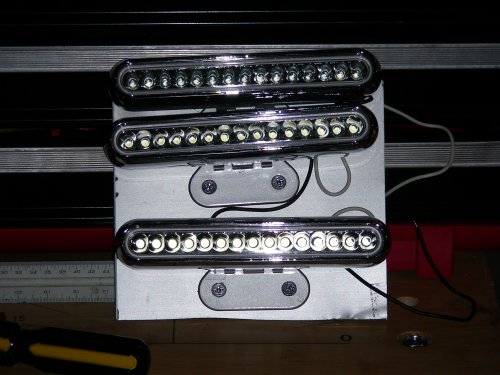 That's the headlights. I got three of these "accent light" dohickies, they're an LED unit that runs at 12 volts and is meant to be mounted in the undercarraige. The important thing is they're bright and when you hook them in series they run at 36 volts. My Vego is also running at 36 volts.
I mounted the lights on an aluminum plate using the supplied metal screws. The plate is being held to the steering column using U-Bolts.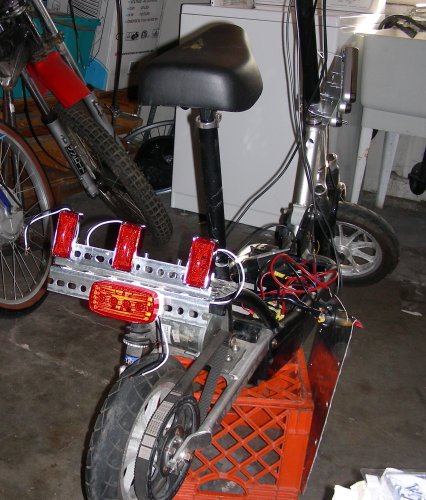 This shows the tail lights. I mounted some diamond plate on the rear of the Vego frame (NOTE: I don't have the plastic Vego body at all) using U-Bolts, and then mounted some angle iron on the rear of the plates. The top three lights are small marker lights, red, wired in series. The one at the bottom is a larger unit.
The three are wired to the same switch which controls the headlights. This gives the Vego both headlights and taillights. They're reasonably bright. I just took it on a ride at night and it lit the street pretty well and the taillights are very bright, so I'm sure the cars around me had NO TROUBLE with seeing me.
The larger unit is a brake light. The Vego design has brake levers which contain switches. I have the switches wired to a relay that both shuts off the controller and also lights this brakelight.
I should mention ... I've been in a couple dozen car accidents, at least five bicycle accidents and one accident where I was standing at the point of impact of two cars colliding where both cars ended up being totalled. With this vast experience in car accidents I've learned one very important thing. In every car accident someone isn't paying attention or otherwise isn't seeing what's going on.
For us to be safe (well, for 'me' to be safe anyway) riding these scooters or bicycles, where there's no protection in an accident, I want to be seen. I figure that I can't control how much or little the other people are paying attention. However I can practice awareness and do the best I can to pay attention. As they said in the motorcycle safety program, look, evaluate, strategize, respond, etc. The other thing is to do as much as possible to help the others be aware of me, so I wear a bright orange jacket, my motorcycle helmet has reflective tape ...and... this Vego has an excellent lighting system.