Bionx Electric Conversion Kits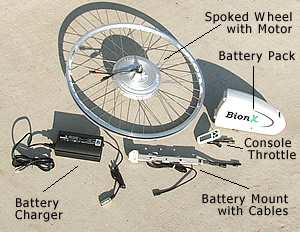 Manufactured in Quebec, Canada, The Bionx (pronounced by-on-ix) electric bike motor conversion kits are reliable, lightweight and offer a range of up to 60 miles to a charge. The standard Bionx system includes a control console, a battery and a wheel/motor. The control console includes a multi-functional odometer, four assistance levels, four generative settings as well as a battery charge indicator.
The BionX system can be installed on most bicycles by replacing the rear wheel with the BionX motor-wheel. The BionX system can be retrofitted on just about any bicycle type: road, mountain, tandem, folding and recumbents.
* The Bionx kit includes, a spoked wheel with motor, console, battery mount with cables, battery pack and charger.
* Wheel sizes: 700c, 26", 24", 20", 18", all with a standard 135 mm rear drop-out.
* Gearing installation is easy with a screw-on threaded free wheel.
* The BionX system can be installed on a tandem, folding bike or recumbent; basically any bicycle with a standard shifting system.
* The Bionx control console includes a programmable anti-theft alarm and a thumb throttle for instant acceleration.
* The Bionx motor wheel is compatible with disc or rim brakes.
* Variable-speed thumb throttles included with all Bionx electric conversion kits.
The Bionx Kits include everything you need to convert your bicycle into an electric bike.