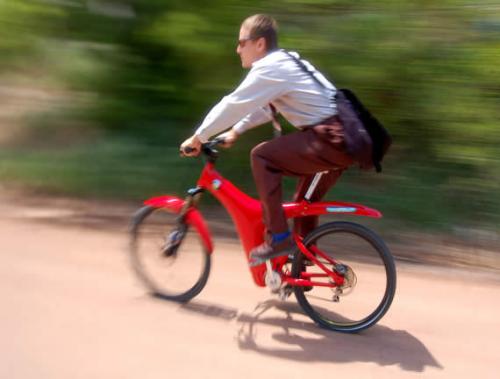 Optibike combines speed, long run-times and exceptional hill-climbing ability in an integrated package with style. And that's putting it mildly. Each bike is hand built in Boulder, Colorado by a team of professionals with an eye for detail and a taste for speed. This is the ultimate in 21st century mad-scientist technology at work here. These guys have successfully extended the limits of electric bike technology with a new and incredibly innovative design.
- Safe and smooth operation at 30 mph +
- Amazingly, up to 120 minutes run time
- Batteries are stored inside Optibike's frame
Optibike's blurring speed is achieved with Derivative Power Control (DPC) which allows for incredible acceleration while still providing super long run times. When accelerating or shifting DPC provides huge bursts of power. State of the art, fuzzy logic programmed into the Optibike computer continually adjusts the power to provide for optimal distance.
Optibike is designed from the ground up for the highest performance, safety, ease of operation, but most importantly, Optibike is way faster and runs way longer than any other electric bike on the market.
As if high speed and extended range wasn't enough, Optibike has front and rear long travel suspension with fast stopping disc brakes that provide a safe feeling from being able to stop quickly when you have to. The fully integrated package provides the utmost in convenience allowing the rider to ride on-road, off-road and up or down the steepest of hills.
Optibike's monocoque frame has sleek styling and a low center of gravity for stable handling but best of all, Optibike's batteries are stored inside its aerodynamic frame - a first. Optibike is truly in on a level above all other commercially available electric bikes.
Features and Benefits



Sleek Monocoque Frame:
The aluminum Optibike 400 frame incorporates style and function in an integrated package. Smooth clean lines mean you will turn heads wherever you go on your Optibike, weather whizzing past roadies or bombing down the trails.


Low Center of Gravity:
The Optibike 400 carries 60% of the overall weight directly under the rider and less than 18 inches from the ground. This translates to safe, quick handling that is unmatched in the industry.


Motorized Bottom Bracket (MBB)
The MBB is what makes an Optibike the leader in High Performance E-Bikes. The patented maintenance free gear system gives the rider the freedom to pedal as much or as little as desired while maximizing the acceleration and range of the Optibike.


Safe, reliable Avid Disk Brakes
Vented disk brakes give the Optibike 400 superb stopping power. Conventional rim brakes are subject to "fading" due to overheating, buildup of dirt and oils, and in wet conditions. When traveling 25+ mph, there is no safe alternative to the best disk brakes available.


Full Suspension
The Optibike 400 comes fully equipped with industry leading Fox Air Fork and Fox Float shock giving the Optibike world class handling on and off road. Fox has been leading the suspension component industry since 1974. High Quality full suspension is an absolute necessity for your safety and comfort.


Standard Integrated Fenders
Front and rear fenders shield you from the brown strip that normally appears on your spine when crashing through mud puddles with an ear to ear grin.

Ultrabright Halogen Headlamps
Midnight cruise anyone? No problem. Ultrabright Headlamps light up your field of vision so you can safely cruise at night and so others can see you without the hassle of remembering to change your headlight batteries!