:O Before I drove off this morning to run some errands, I happened to glance over my hub wheel since the scooter's driving had felt a slight bit "wobbly" as of a few days ago. Lo and behold, one of the nuts that hold the wheels integrity and structure together had just plain FALLEN OUT!
See pic -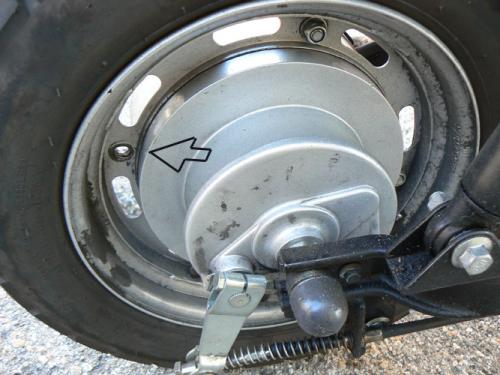 Geez I didn't even think about checking those! I mean, what else could fall out of this device ??
Anyways, I put a temporary replacement in until I could run to the hardware store and buy this large size (14 mm with lock-nut) and encountered, within about 1 1/2 miles, my first flat, which hit me while zooming under the 210 FWY in Pasadena, going about 35 mpH.
Thank GOD I was not leaning into a curve, otherwise I would have took my first scooter flying lesson!
I suspect that, when I tightened the wheel again, some metallic particles got free and punctured the tube from the inside of the tire, as there is not even a TRACE of intrusion visible on the outside!
Well well, here goes the Craftsman Toolbox again, but -hold it - where do I get a good spare tire?
Anyone bought the slightly bigger ones somewhere ? Good store? Please share your insights....
Boy at the angle that I usually corner with the scooter, - makes me concerned, verrry concerned!
Here's the lesson: I had a standard AAA membership, which does not include motorcycle roadside assistance. If you upgrade the membership beyond "classic", so that you may receive RV and motorcycle roadside assistance, you will only receive coverage for up to $ 200.- which the towing company may charge. Some of them charge up to $ 125.-/hr.!!