Hi from Australia - I just joined the forum and wanted to say hi to everyone. I'm a mad cyclist from Oz looking to do an electric conversion. I'm currently working as a lecturer in computer science at Monash College.
I've been looking around the net for a lil while now :? and there seem to be many options for drive train. I'm already sure of which battery technology I'll be investing in (LiPo) but i'm stuck on motor choice.
there are three in particular i'm looking at:
a hub motor (crystalite dual speed most likely) for the reasons *1 below
currie motor (with possible upgrade)
a www.elationebikes.com.au motor setup (same as Sturdly's)
There are four main stipulations.
1. the bike needs to have a range of 58klms (36miles) (one return trip is 49k)
2. I would like to be able to get decent speeds - what do i mean by this? well i currently do the commute on my road bike. Below we can see my log from the trip home today (I was taking it a lil easy as my legs are tired from 1.5 weeks of commuting but did have a tailwind).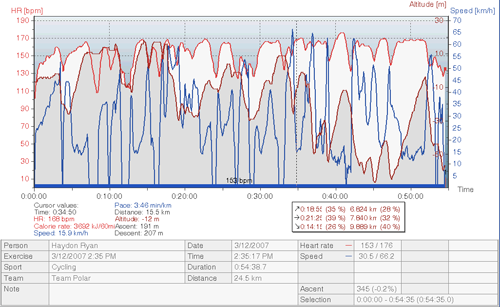 I'm looking for an ebike that will basically match my performance to ride on the off days I don't want to take the bike (eg tomorrow). (average speed of:30kph max of 66.2kph)
3. The setup needs to be weather proof.
4. The batteries have to be removeable ( i have somewhere safe to store them to avoid theft)
*1 most of the setups in Aus are for low (200w) power setups. This is because some lawmaker decided that we should cripple the possibility of electric bikes and restrict them to lower speeds that regular cyclists can ride at on the roads. I'm not really concerned about this limitation ;) as i'll happily ride on bike tracks insted.
I would prefer to get a motor that has good performance pulling up hills, but also a high top speed (if one exists) as the start of my ride is very hilly, and then it flattens out later. a motor setup that worked through the gears would be great.
I have test rode one ebike that did around 20kph on the flat and was utterly dissapointed (200w hub motor). the speed that it went on the flat was the same as the road bike coasting along peddling occasionally.
If anyone has some suggestions that would be great! as while i'm not new to cycling, I'm very much the newbie when it comes to ebiking.
edit: i have no problems in peddling gently, or peddle starting the bike, and i'm happy if the bike goes faster than my average ;) I used to own a yamaha FZR600 so have no quarms about riding at traffic speeds.
Kindest Regards,
Haydon