Anybody seen one of these in person?
http://www.zapworld.com/zapstore/detail.aspx?ID=389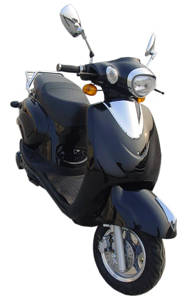 Here's the description/specs:
Description: Filling the gaps between Point A to Point B transportation, ZAP has finally found the middle road. The new ZAPINO electric scooter is a great link between ZAP's personal transporters and electric cars.
Not only economical and clean, the ZAPINO is also powerful with an advanced 2500-watt brushless DC hub motor, perfect for city commuting. Able to reach speeds up to 40 mph, you will be able to keep up with city traffic without contributing to city pollution.
The hub motor in the rear wheel creates more room on-board for additional batteries, greater functionality and performance. This innovative thinking enables a direct drive transmission, eliminating the need for belts, or chains, resulting in a more enjoyable ride with less vibration and noise, while reducing overall maintenance.
First seen in the ZAPPY3 personal transporter, this new technology is now being studied by ZAP for integration into new scooters, ATVs, and even cars.
Motor: 3000W Brushless Hub Motor
Max Torque: 120NM/900RPM
Max Speed: about 30 mph
Range: up to 40 miles each charge
Brake: Rear and front disc
Weight Limit: 280 lbs.
Battery: 60V Green saver silicone batteries
Net Weight: 297 lbs. (including battery)
Optional Upgrade: Replace with 60v40AH Lithium battery
for a range of up to 87 miles
Climbing ability: Start on 25% slope with an 80kg (177 lbs) rider.*
* Factors such as weather, terrain, load may affect results.
3000 peak watts, 60 volts
Intelligent Controller and DBI-digita
l battery indicator System
* This is the only one in the field of E-Scooters
---
So, it's either a 2500 watt motor or a 3000 watt motor, and the top speed is either 40MPH or 30MPH. At least they only claim one range figure, but it's probably only half that in the real world. And hey, it's only $3200 USD! Anyone tried one of these, or know if they are currently shipping?