Luyuan PB803A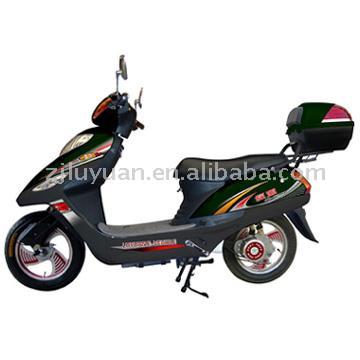 Performance contrast
Model: PB803A
Name: HD-720SP
Motor power: 400W
Climbing angle: 15°-20°
Torque: 32-55Nm
Front brake Drum brake
Rear brake: EABS (electric absorption braking system)
Speed: 22-32Km/H (13.6-19.8mph)
Run distance:45-60Km (27-37 miles)
Battery capacity: 48V17AH
Other parameter
Body size (L*W*H): 187*70*110cm
Wheel size: 16"*2.5
Loading: 175Kg
Seat above ground: 73cm
N.W(with battery):75Kg
Weight of battery: 26Kg
G.W: 85Kg
Battery name: Sealed Lead-acid battery (Maintainable)
Charge time: 3-8 H
Charger input: AC100-240V,BM-online (battery maintained while charging)
:jawdrop:
Believe it or not?
Luyuan 720SP Motor
Why do your motors attract us?
Generating Power is the mission of motor. So we require our motor contents you with powerful and efficacious.
We use CPU motor with high toque and effective power conversion, specially our advanced SUPPER POWER motor. Generally, loaded 2-3 people ,one 720SP could climb 30°Slope from static state. it also pulls an ordinary family-car or small truck quite easily. The super power of 720SP is evidence in driving.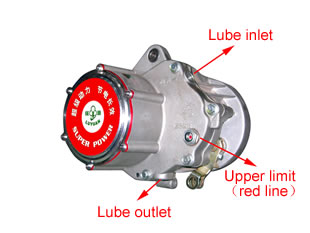 Super power motor
Luyuan HD-720SP is our latest high-tech model, using advanced SP motor. This motor features high starting torque, effective energy conversion and saving power, leading to strong propulsion and high efficiency of power utilization.
Note:
1. Replace lube after riding 300km for the first driving. Afterward, replace it every 3000km.
2. Please use appointed gear lube.
3. Do not fill lube exceed upper limit.
Lube replacement steps:
1. Stop HP720 with middle support, start motor to warm it for 3 minutes, cut off power.
2. Loose screws in inlet and outlet. Discharge residual lube.
3. Tighten outlet screw. Fill appointed lube into gear box for 120ml.
4. Tighten inlet screw.