Edit: 5/12/07 updated specs
Edit: 3/30/08 Removing circuit breaker. It is not a reliable disconnect. Instead I'll use the SW200 contactor as the emergency disconnect, and have the clutch cable run to a switch that is in the circuit powering the SW200 contactor coil.
First two pics were recovered by archive team, thanks!
Was going to wait till I had it done, but they made me jump to gun and take a few more pics of the bike as it is now. Now I got to hustle and get this sucker rolling!
Old pic, I think about a year ago. Note messy 12v wiring still hanging from frame *shudder*.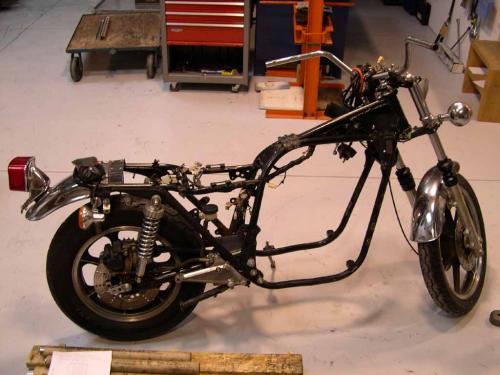 Pic from Nov. 2, 2006.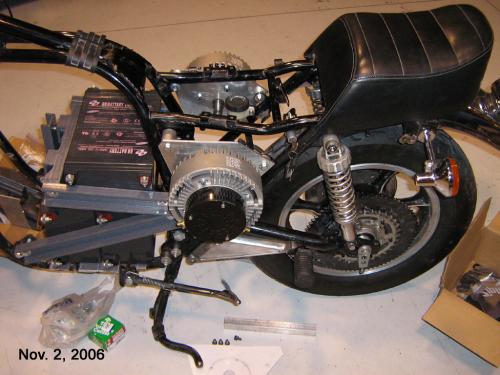 Following pics were taken today.


Click here for full size view



Click here for full size view



Click here for full size view


Bike specs:
(2) Eteks being run in parallel at 72v
(6) EVP35-12 B&B batteries
Zivan NG1 Charger
(5) Powercheq battery regulators
Curtis 72v 400a controller
Curtis Albright Contactor SW200-505
Airpax Circuit Breaker trip amps: 313 NOTE: Removed!
"Fibergrate Dynaform" fiberglass material used for battery mounts, available from http://www.usplastic.com Used fiberglass repair to form material around bottom of cradle to secure it.
72T Rear sprocket from http://www.surpluscenter.com
11T Drive sprocket (not pictured)
Aluminum shaft for coupling (not pictured)
#40 Chain (not pictured)
UPDATE:
LogiSystems 48-72v 1140 amp controller
Custom made chain tensioner
Performance w/400A Curtis & 12T sprocket:
0-30 mph 2.5 sec
0-55 mph 6 sec
Controller max current: 550+ amps
---
Avatar taken from http://www.electricmotorbike.org/
Anyone got one they might want to sell?