:?
Several members want to know, what can be done to increase the performance of the X-Treme Electric Scooters XB-508 (SPORT) Electric Bicycle (A Moped Scooter Motorcycle)?


Product Specifications:
Power: Electric
Watts: 550 Watt
Motor Type : Brushless Hub Motor - Motor is in center of rear wheel
Maximum Riders : Can ride 2 people at once
Amps: 56 Amp Circuit
Volts: 48 Volts
Batteries: 4 - 12 volts 14 AMP (Four batteries total) (48 Volts)
Tire Size: 16x2.5 on 16" Inch Aluminum Wheels
Charger: Smart Charger Included
Tool Kit: Included
Speed: 20+ mph* using motor power only - faster if you also pedal
Distance: Up to 20 - 25 miles per charge - can still pedal if charge is lost
Throttle Type: Variable speed control - Twist throttle on right grip
Key Start: Yes
Seat Kit Included: Yes
Storage Areas : Large area below seat + Large trunk + Small area near key
Braking System: Front and Rear brakes
Drive System: Rear Hub Motor (No Chains or belts) Motor is in rear rim.
Foldable: Partially - Remove front wheel for transport
Head Light: Yes (Dual Sport Headlight System)
Tail Light: Yes
Brake Light: Yes
Blinkers: Yes
Suggested Max Weight: 300 lbs
Measurements: Wheel to wheel 66" - Max Width 27" - Seat Height 34"
Carton Size (LxWxH): 62"x17"x37" LxWxH
Scooter In Box Weight: 120 Lbs
Scooter Weight: 105 Lbs
Electric Horn: Yes
Spring Loaded Seat: Yes
Speedometer: Yes
Battery Indicator: Yes
Cargo Rack: (Included) Storage box with key included, but does not need to be installed. Your choice!
Ignition Key & Storage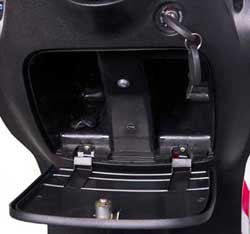 Storage Under The Seat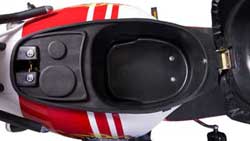 Dual Shocks - 550 Watt Hub Motor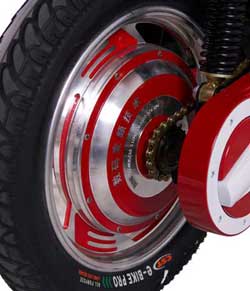 Front Wheel & Drum Brakes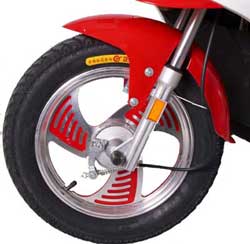 Sport Front End & Dual Lights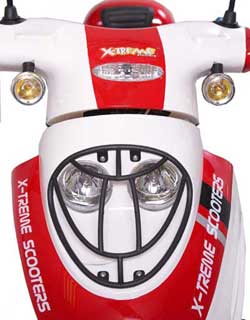 Rear Trunk Box With Lock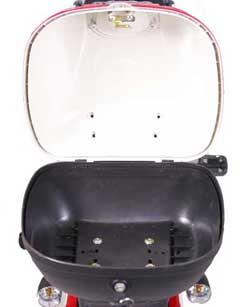 Dash & Speedometer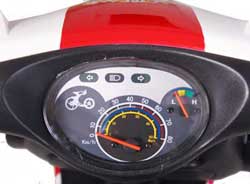 Chain Guard Shocks & Pedals