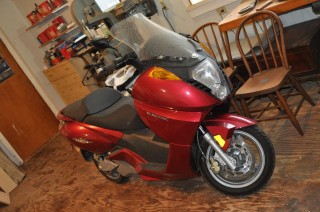 Hi Everybody!
Recently, I got a 2007 Vectrix. It was in non-working condition, with the seller saying it had a bad battery pack. He claimed that the range just kept getting worse and worse until the bike just didn't turn on one day.
I bought the cycle and brought it home. Here's the first post about it on my blog. http://300mpg.org/2014/12/02/vextrix-electric-maxi-scooter/
I set to work taking off the covers and getting the batteries out. The entire battery pack was at less than two volts! Yipes. I managed to get some voltage into the pack by manually charging it with a variable voltage charger. I think there's a few bad cells in there, but I haven't stripped down the original NiMH packs to the component level yet.
In the mean time, I used some NiMH cells I got from a Ford Escape Hybrid battery pack to make a 125V nominal battery that I jumper-cabled to the cycle. Using that, I was able to boot up the cycle. I spun the wheel, tested regen, and reverse. All worked fine. After plugging just the temperature sensors from the original NiMH pack back in, I was even able to get all the error lights to turn off.
Here's my second blog post, with several videos.
http://300mpg.org/2014/12/17/vectrix-repair-work-continues/
I have the service manual, which I downloaded from here at V is for Voltage.
I know I'm going to have plenty more questions as I keep going on this project, but here's the first one - where do I get the "talk to the scooter over CAN" software from? I just got my CAN to USB adapter in the mail today and would like to try connecting to the Vectrix.
Thanks in advance for your help!
-Ben Nelson
southestern Wisconsin, United States