Hi,
this is a forum to discuss fairly specifically how Vectrix users should treat their new vehicles in order to hopefully achieve good long term performance.
Anyones opinions are most welcome.
It is a doubled-up forum entry which is also on the "Vectrix Reports" forum, but I would like to invite everyone to make suggestions, speculate, analyze etc. in this forum here.
That way the "Vectrix Reports" forum might remain more specific to actual reports.
Here is a link to it: http://visforvoltage.org/forum/2547-vectrix-reports
I still hope that other Vectrix owners will join in and post some reports in that forum soon, so try to keep the interpretations, suggestions etc. in this forum here so that the other one does not grow to an unusable size, please!
My Vectrix recently stopped working and there is a possibility that it needs to be replaced with a new one. I think it's time to post the "Charging in the Real World Report" which I have been working on for a while.
This report should be very interesting for some people reading and writing in these forums – and extremely boring for most others. Read at your own risk ;-)
Looking through the various "V" forums makes it obvious that battery recharging is a complex process that can severely limit performance and lifespan of batteries.
The Vectrix Manual delivered with my bike was not enlightening in regards to what sort of determinants might influence the short-, medium- or long-term performance of a Vectrix and it's battery. Not at all. And the verbal advice was along the lines of " Don't worry, just plug it in when you can".
I'll try to provide details of what I observed in regards to my Vectrix' charging process here, hoping that those people amongst you with years of hands-on experience with Ev's, batteries etc. can make sense out of it, and maybe suggest how a Vectrix should be treated initially in order to maximize it's performance and battery life-span.
So please reply if you can help with suggestions.

So, finally to the charging report I was working on before my Vectrix died....
The engineers putting together the Vectrix did of course have to tackle the same difficulties as anyone else fiddling with batteries; I don't understand this stuff sufficiently yet and can only describe what seems to be happening with my Vectrix.
I hope I am not annoying the Vectrix manufacturers by posting the observations described below. They are of course aware of these reports by now and are welcome to contribute.
I assume that the key parts of the Vectrix have been patented and described in technical terms somewhere public anyway, so I'm not giving away company secrets here.
If the descriptions here help others to improve the performance of their EV, making them a more viable alternative to fuel guzzling ICE's, and if it helps Vectrix to improve their products further, then this post has achieved it's purpose.
----------------------------------------------------------------------------------------
Recharging a Vectrix is apparently complex, but only for the on-board charger, which is supposed to do all the tricky things that fill the battery well and maximize the battery lifespan.
To be very clear about this, the owner does not need to do anything other than plug it in and plug it out when finished – all the apparently complicated stuff below is for the technical-minded types in these forums, who like to take things apart (particularly if they are working well) and put things together.
Only time will tell if the on–board charger does any better than a dedicated electro-geek with string-, bank-, trickle-, tickle- and who-knows-what-other-chargers and gizmos…
All the rider supposedly has to do is plug it into a standard power outlet….
I'll describe what my Vectrix seems to be doing. I do not know if others behave the same.
Also keep in mind that my Vectrix is over-due for it's first service at 1000km when you read this. The service / repair due might uncover defects that explain discrepancies between expected specs and observed real world behaviour of my Vectrix.
---------------------------------------------------------------------------------------
Well, what is the story in the real world, then?
Unfortunately it turns out that I need not only plug my Vectrix in, but also need to unplug it, and this is much more difficult then plugging it in.
Difficult because it typically needs to be done late at night.
This is because the charger / battery combo of my Vectrix consumes 0.5A * 240V = 120W of continuous power after the charging process has finished.
This causes the charger to heat up slowly, because no cooling fans are running any more once charging is over.
The heating of the charger is not obvious because it is hidden from both view and easy touch under the right front fairing. IR thermometer readings are likely incorrect due to its shiny silver surface, but the charger gets too hot to touch at times and my best guess is that its temperature reaches about 60-70 deg Celsius after several hours of sucking 120Watts at an ambient temperature of about 25degC.
I have left my Vectrix plugged in for up to 24hrs after charge completion without any apparent problems being caused by the hot charger, except to my wallet and the environment. I assume that the heating of the charger and surrounding cables etc. can only be detrimental to the overall reliability and longevity of the Vectrix, though.

Leaving it plugged in overnight increases the overall power consumption and greenhouse gas emissions of my Vectrix by at least 25%.
During the actual charging process the charger gets only slightly warm, because of the strong fans cooling it continuously.
The problem is easily fixed, though:
A timer set to 6hrs lets my Vectrix go through a complete charging cycle and then does the complicated unplugging business for me, while I sleep.
I hope this issue will be addressed by Vectrix in the future.
---------------------------------------------------------------------------------------
Another –and much less obvious – design problem is that a very small amount of pre-heated air enters the air intake vents which supply the batteries with cooling air.
This might well be insignificant; in order to assess this fully one would have to place precision temperature probes deep inside the air ducts and ensure the cooler and warmer air parts have been mixed thoroughly before measuring their temperature. The likely temperature difference is too small to measure accurately with the sort of thermometers I have available.
The warm air comes from the charger cooling fans, which blow downward onto the front wheel cover during charging.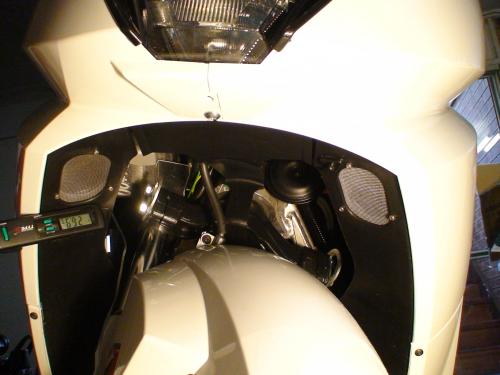 The two air intakes for battery cooling are located on each side above the front wheel, covered with a metal screen.
While I believe that the re-circulation of warmed air is insignificant in cool or warm conditions, it might cause problems when charging in very hot conditions.
----------------------------------------------------------------------------------------

The actual time needed to recharge is much longer than I expected.
No matter how I try to interpret the published specs, I cannot get anywhere near 80% recharge in 2 hrs.
This might be due to the current temperatures here in Australia. I was told that charging takes longer in warmer weather; the charger supposedly slows things down in order to protect the batteries from getting too hot. I think I was told that the published specs for recharging time are for 20 or 21degC ambient temperature.
The lowest ambient temps during which I could observe charging yet were about 23-24degC, the highest 28-29degC.
Assuming that the various stages of the charging process are doing something worthwhile to the battery, I try to let the charging run through the complete cycle when I can.

The recharging time from empty to full, including all stages automatically done by the charger, takes typically 5 ½ hrs and uses about 5kWh electricity.
(5h46min was the longest, 5h26min the shortest).
During the first two hours of charging about 50% of the available battery capacity is recharged.
This means 120min charging for 25 km range gain for my Vectrix, but only when the battery is more than ½ empty.
I need to charge about 4.8min for each km range I need to add when I "top up" somewhere to make it home.
If the battery is already ½ full or fuller when charging begins, then it will take longer to fill it completely than to get to 50% from empty, because during the later stages of charging the current going into the batteries is reduced.

In my experience a 80% recharge is achieved in about 3 to 3 ½ hours.
I have not done any range testing after partially charging my Vectrix.
I have not tested if the estimated range indicated by my Vectrix after partial charging, without the conditioning usually done automatically at the end of each charge, is any more or less reliable than after full cycle charging.
---------------------------------------------------------------------------------------

Here is what my Vectrix usually does when it gets plugged in to recharge:
The lights flash briefly and all instrument panel lights come on for a moment.
The throttle and all systems have their usual function disabled, making it impossible to accidentally drive off whilst plugged in. It does not matter if the key is in the "ON" position or not.
Even after completion of charging some of the usual functions of my Vectrix remain disabled, especially the ability to be driven off whilst plugged in.
If however the power is out, but the power plug is still plugged in, then my Vectrix is unable to detect this and could potentially be driven off, damaging the chord. (The power points in Australia usually have a switch next to them to turn them on or off, so this scenario is not as unlikely as it might seem!)
The instrument panel is used to display different information during charging than during driving: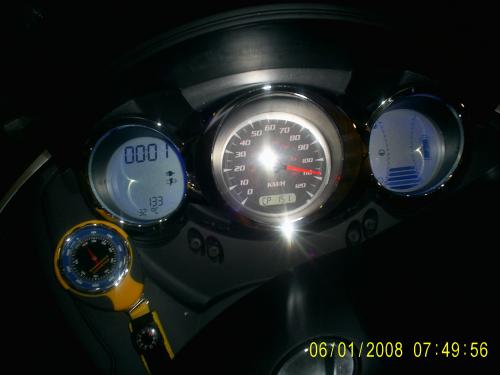 Time of day becomes charging time (00:01), EST RANGE becomes actual battery voltage (133).
Trip A/B meter becomes "temperature of the hottest battery cell" (32 degC)
Speed becomes Amp (DC) going into the battery (108km/h = 10.8A), total km becomes CP, tr, CC or EC + voltage that the charger is aiming at (CP 150)
.
The battery level indicator still shows how full the battery is, and gradually rises during the charging process. (5/17th = 29.4%)
At the same time the battery cooling fans start running, sucking in air from the R + L front fairings meshed inlets and exhausting it onto the rear wheel.
The charger cooling fans also start to run at the same time, blowing onto the front wheel as mentioned above.
Altogether this is quite noisy. The noise levels remain constant throughout the charging process.
This video gives you an idea of the noise level and of how the measurements were obtained:
At the same time that the fans begin to run the speed indicator rises to about 110km/h, which (divided by 10) tells you that the charger is putting 11A DC in to the batteries, and "CP 150" or "CP 151" or "CP 149" is displayed, for "Constant Power aiming at 150V". I don't know why the Voltage aim is slightly fluctuating.
---------------------------------------------------------------------------------------
The charging stages are:
CP = Constant Power; takes several hours depending on battery level.
tr = transitional ; always is 14minutes, counting backwards.
CC = Constant Current; lasts variable amount of time; speedo always shows 30km/h steady during CC.
EC = end of charge, always 59min, counting backwards.
----------------------------------------------------------------------------------------
After the end of EC the fans stop, all lights and instruments go out and the ingoing current drops to about 0.5A, fluctuating very slightly.
Just before switching off the instruments display the total charging time, and then 00:68 for a second. No idea what that means.
----------------------------------------------------------------------------------------
The battery temperature is initially always displayed as 21degC, then jumps up after about a minute, then slowly reduces by a few degrees over the next few hours whilst charging.
I cannot make much sense out of these battery temperature readings.
The initially displayed 21degC is obviously incorrect, because it is always 21degC even when the ambient temp is around 30degC and if the battery temp is around 40degC after a fast ride.
The battery temp then usually shows about 33degC after a minute or so, even if the Vectrix has been standing around for several hours or overnight to let the batteries cool down, and in an ambient temp of 24degC. I do not understand why.
After the fans have been running for a few minutes the temperature display begins to slowly drop.
The above picture was taken after a 10 hour break after driving, because I was told that letting the batteries cool down would make the charging process quicker. I wanted to test that statement. Noteworthy is that the temp of the hottest battery cell is already 32degC, despite the ambient temperature of 25degC for the last 10hrs in this example.
The following pictures have been taken later during the same charging process.
The highest battery temp I have ever seen displayed at the beginning of charging was 44degC after a fast and almost complete discharge by fast driving.
The displayed battery temp gradually reduces to somewhere in the mid- to low thirties during charging. It remains fairly stable even when the Amps are reduced during the following charging stages.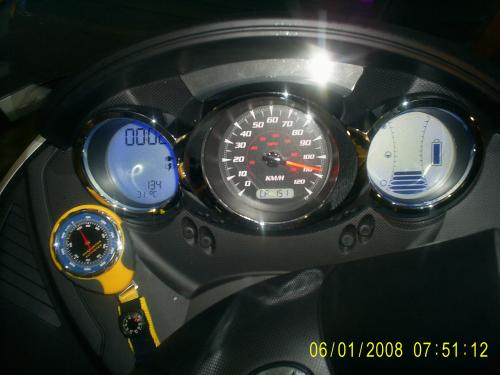 Here the displayed temp has dropped to 31degC after 2 min of charging.
---------------------------------------------------------------------------------------
I have not observed any stops or current reductions during charging due to high temp or other issues, but twice I found that my Vectrix had only charged to 15/17th when I turned it on the next morning; the charging process had stopped spontaneously for an unknown reason.
It was not hotter than usual, and there was no power outage, and it was not on the timer.
This is out of a total of 35 charges so far, in other words in about 5% of charging episodes the charger failed to automatically charge the battery to full capacity, but charged it to over 90%. It then took about two hours to let the charger run again until it stopped automatically with a full battery.
----------------------------------------------------------------------------------------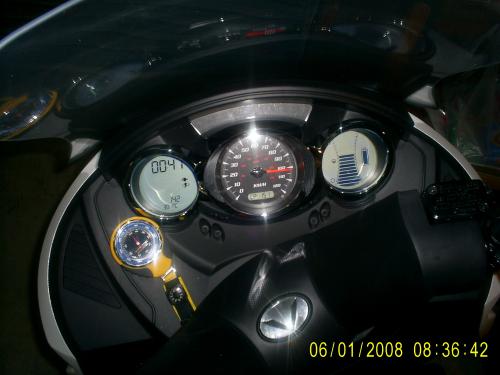 Temperature at 41min is 30degC.
During the "CP" part of charging the displayed DC Amp slowly drops from 11 to 10 Amp over several hours.
----------------------------------------------------------------------------------------
The ingoing AC power is around 1600W, with a peak at around 1700W in the first ½ hr of charging, and appears to remain stable.
It draws about 6.7A at 240V during the "CP" part, and the Amps increase if the grid Voltage drops.
My Vectrix seems to automatically draw more amps to keep the ingoing wattage constant, if the grid voltage drops. Here is a presentation on you-tube where the presenter (I don't know who he is) states that the only difference between Vectrix' for different countries is a different plug, and that the charger automatically adjusts to different voltages. There is other interesting information relating to this report in the video as well.
----------------------------------------------------------------------------------------
Here is a photo of the display after 2 hrs of charging - the initially missing 70% battery charge have not been completely filled up yet.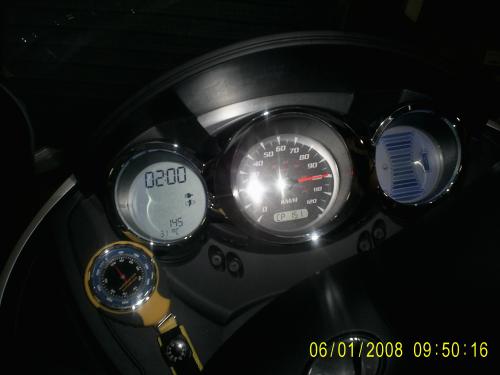 ----------------------------------------------------------------------------------------
Once the battery is almost full the "tr" part of charging starts and it appears to be always 14min long. It counts backwards from 00:14.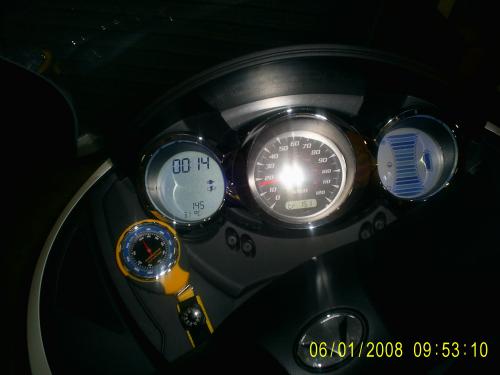 It has the lowest current displayed (and measured going in) of all parts of the charging process, almost always 1.6A DC (=16km/h displayed) and 1.29A going in.
It is supposed to be a "transitional" period to cool the batteries before the next part, but the displayed battery temp does not usually drop during the 'tr" part.
----------------------------------------------------------------------------------------
After 14min of "tr" charging the DC current goes up to 3A DC (30km/h displayed) and the km counter shows "CC 152" for "Constant Current aiming at 152V".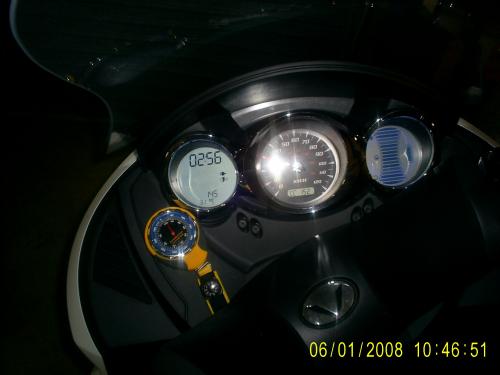 This can last several hours.
It draws about 2.06A at 240V = 494W during the CC part.
Looking through my photo records I just noticed that the "tr" can be followed by another "CP" cycle, then another "tr"; this happened on one of the occasions when my Vectrix did not spontaneously reach 100% full battery through the automatic charging process, and needed another 2.5hrs top-up the next morning to reach the end of the charge cycle.
----------------------------------------------------------------------------------------
Finally there is a "EC" part for "End of Charge" which counts down from 59min to zero.
It draws about the same amount of power as the "tr" part, probably just cooling the batteries, not sure.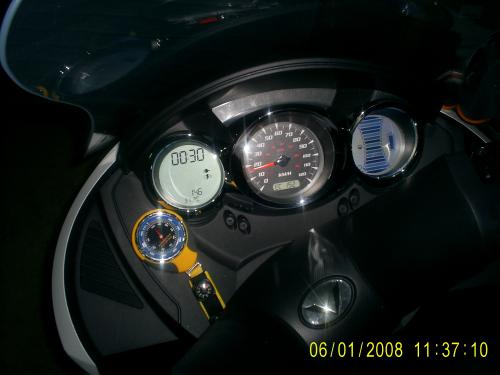 ----------------------------------------------------------------------------------------
Overall 4.2kWh were used in this charging process. 1747kWh was the peak power consumption about 13min after the start of charging.
----------------------------------------------------------------------------------------
At the end of charging my Vectrix briefly displays the total charging time again, followed by "00:68" for one second, then all lights and fans go out and the charger starts to slowly heat up as described above.
I do not know what 00:68 means, but it is there each time I happen to be watching at the end of charging.

In Summary:
It takes about 5 and a half hours to fully charge empty batteries.
Uses about 5kWh for a full recharge.
Apparently it conditions / differentially charges cells.
Very easy and reliable 95% of time.
Partial charging / opportunistic charging is apparently OK.
Noisy due to multiple fans running.
Takes longer than advertised.
Standby power wastage.
Please let us know if you have any ideas how to best "condition" or "break in" the battery on a new Vectrix. It's supposed to be a 40Ah NiMH battery, I believe.
--------------------
Cheers,
Mr. Mik