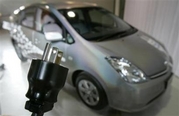 A Toyota Motor Corp.'s employee holds up a three-prong plug for a photo during the unveiling of a plug-in hybrid vehicle in Tokyo July 25, 2007. The vehicle, certified for public road-use by Japan's Ministry of Land Infrastructure and Transport, is able to travel at a maximum speed of 100km (62 miles) per hour and Toyota estimates the vehicle to run 13km (8 miles) under electric vehicle mode by charging three to four hours with an ordinary electric wall socket. (Yuriko Nakao/Reuters)

Toyota unveils plug-in hybrid, to test on roads
By Chang-Ran Kim, Asia auto correspondentWed Jul 25, 1:30 AM ET
Toyota Motor Corp. unveiled a "plug-in" hybrid car based on its popular Prius model on Wednesday, saying it would test the fuel-saving vehicle on public roads -- a first for the industry.
But the world's biggest automaker said the car, called the Toyota Plug-in HV, was not fit for commercialization since it uses low-energy nickel-metal hydride batteries instead of lithium-ion batteries believed to be a better fit for rechargeable plug-in cars.
Unlike earlier gasoline-electric hybrids, which run on a parallel system twinning battery power and a combustion engine, plug-in cars are designed to enable short trips powered entirely by the electric motor, using a battery that can be charged through an electric socket at home.
Many environmental advocates see them as the best available technology to reduce gasoline consumption and global-warming greenhouse gas emissions, but engineers say battery technology is still insufficient to store enough energy for long-distance travel.
"It's difficult to say when plug-in hybrids could be commercialized, since it would depend largely on advances in battery technology," said Executive Vice President Masatami Takimoto, in charge of Toyota's powertrain technology, told a news conference.