In My latest e-bicycle build I posted this picture of the battery pack I'm meaning to put in the bike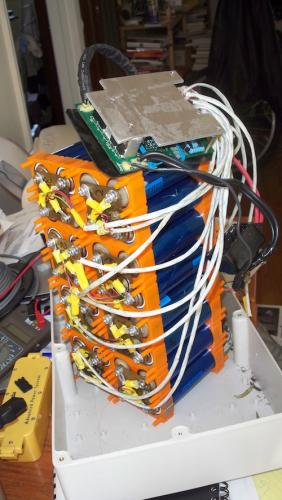 The pack as shown is a 16s2p (48volt 20ah) pack of Headway cells. The cells were bought last year via a group purchase deal ... There has been a continuing issue with this pack where cells are dying and I've never gotten to use any of it to power a vehicle. Well, until today that is. It arrived with funky packaging and one cell pair dead and some of the BMS wires were loose (bad soldering). I eventually bought another cell pair and by the time (months later) I got it rearranged other cell pairs had died. I bought some more cells and also redid all the BMS wires to have better connection. FWIW The resulting pack has cells with manufacturing dates spread out over the last 1+ year.
A couple weeks ago the pack came together as shown in the picture. All the cells were full (3.2-3.3 volts) and I left it sitting. Then yesterday I wanted to mount it on the bicycle and started checking the cell voltages. Some of the cells (2 pairs) were dead. I'm really getting tired of this.
I took off the BMS completely as I'm totally not confident in it. I've heard from others that BMS may be problematic.
Unfortunately I don't have enough cells for the 48v 20ah pack. So I redid it to a 10ah pack (16s1p) w/ no BMS at the moment. It was enough to put it on the bike and take it around the block a couple times. The bike is great, powerful, etc. I think there's only one kink left - the lights aren't working right. But this is about the pack.
My options are:-
a) get a few more cells to get it back to a 48v20ah pack - PLUS - get the fetcher/goodrum BMS (I found the place that sells assembled BMS boards)
b) leave the 48v10ah pack as is and use some of the cells to make a 24v10ah pack for another of my bicycles, that bike has a 24v10ah pack already but that pack isn't quite strong enough for the discharge on that bike and adding another 10ah of cells would make that bike more useful
b.1) also get the fetcher/goodrum BMS board
c) forgo the BMS entirely and just be careful on the monitoring
One thought is maybe these headway cells I have are just bad anyway. They keep dying and maybe throwing more money at them (buying a this other BMS board) is just throwing good money after bad. Option (c) is my frustration plan.. I just use the cells as is until they all die (assuming they're all going to die) and "later" buy a real pack from a reliable manufacturer. Basically I have no idea whether to trust these headway cells at all.