So, I've had my BionX PL-350 for 2 years and 4 months now (conveniently just outside the warranty window) and it's been working decently. About a year ago, I went to Japan for 5 months, and left it in the care of my parents. It mostly sat around while I was gone, I think it got ridden maybe once or twice. When I came back, I noticed that when the bike was assisting, the first three assist bars on the console were more dim than they used to be, and dimmer than the others. I tried adjusting the contrast, but nothing really had an effect. I didn't think too much of it, since it didn't seem to be affecting the operation of the bike. I did note that there was a bit of condensation on the inside of the console screen, which probably wormed its way in through a small crack in the console, courtesy of a crash I had a little while ago.
Fast-forward 6 months; After a night of heavy rain and wind (I have to store my bike outside where I live, under a raised patio, but still not too much protection), I take my bike out. As usual, I'm in a hurry, so I hit the power button, hop on, and start pedaling. After a few seconds, before I've even turned on the assist, the bike switches to regen mode, without me touching anything. I nudge it back up to assist 2, and notice that there's even more condensation inside the console than usual. It stays at 2 for a few seconds, then jumps by itself to 4. Now worried, I turn the bike off, while still pedaling. However, my disc brakes are out of adjustment, so without the engine braking, I nearly coast into the next red light. So I figure I'll carefully turn my bike back on, but try to leave it in neutral just to have the regen braking. It sits there happily while I get going, then starts switching around by itself. I get spooked and try to turn it off with a quick power button press. This causes the whole system to lock up in anti-theft mode, which I have never used and had never set up, and the full regen brakes to come slamming on. Now, at this point, I'm coasting along at about 25-30kph (15-18 mph) along a somewhat busy street. I apply my own brakes and aim for a spot to pull over, and while doing this I hear a soft "pop" come from the battery, and the regen braking stops. I manage to get the bike turned securely off, and unplug the console, just in case. I finish my errands with a nice heavy bike and head home. Since my warranty is expired, I popped open the battery case to have a look, and came across this below.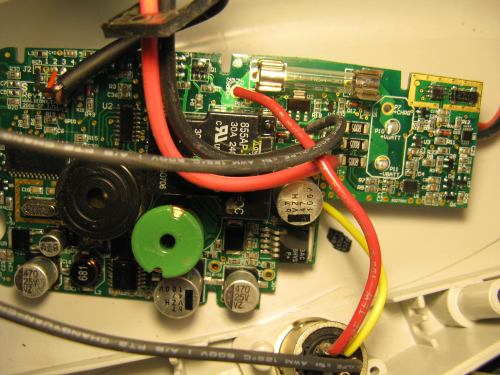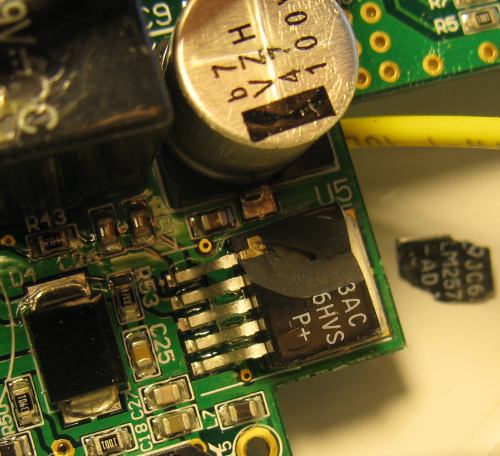 I haven't used the assist since this happened. I took the console off to let it dry out, and I haven't put the battery back together yet. I also haven't contacted Bionx, since I currently can't afford to pay a dime for repairs, and since I doubt they would just replace the CB and leave me with my gently used but still fine cells. What I'm wondering is, is this component toast, or is this a bit of the heat sink for it that blew off from overheating? Would I be able to paste this back on with some thermally-conductive glue and go about my business, assuming the console returns to normal operation? Alternatively, if it is toast, could I simply disable regen braking and just use the assist? For that matter, could I replace this component myself, and does anyone know its exact function? Ive been using my bike with just the extra weight of the motor for the last few weeks, and while I'm not having trouble getting places, it's frustrating to not be getting any use out of this expensive investment.
Any help or ideas would be great.