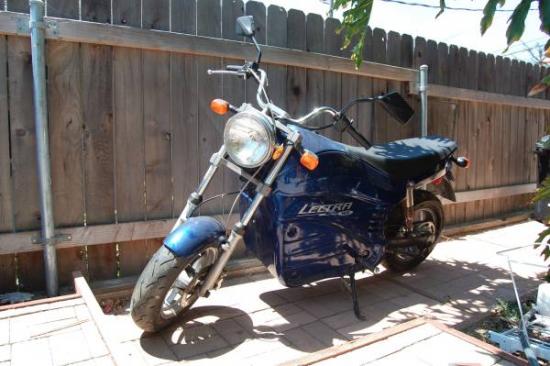 I recently moved into a smaller space and no longer have room for this project. This is an EMB Lectra VR24, made by Electric Motor Bike of Santa Rosa, California. It is currently not running, presumably due to a malfunctioning control unit. It also needs four 12 volt lead-acid deep cycle batteries as well. It features on-board recharging system and needs no oil or gasoline. This is a collectible item as only about 100 were ever manufactured!
This amazing bike gets about 22 miles per 4.25 hour charge (on-board charging unit plugs directly into normal 120 volt household supply). Some charge is re-captured upon braking utilizing a regenerative braking system. Single passenger only.
Initial acceleration is faster than most other vehicles on the road, which is a plus on any motorcycle, due to its single drive transmission design, making it safer. I have the Washington state pink slip.
The next owner should have a bit of electrical/mechanical savvy, or have a friend who does. More general info on the Lectra VR24 here:
http://electricmotorbike.org/index.php?page=lectra
The bike is located in Los Osos, CA, near San Luis Obispo. Contact: rccraigb - at - gmail - dt - c0m
Thanks for looking!
Craig