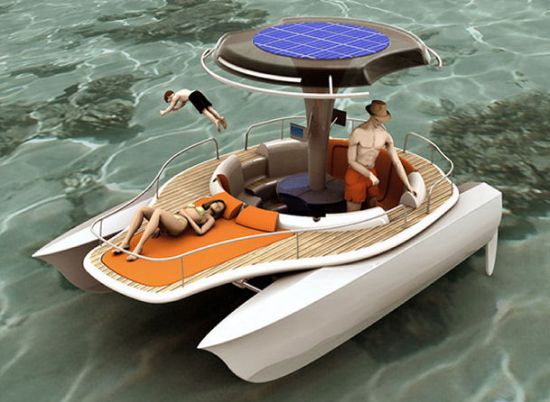 The article was a disappointment, the link had made me think this boat existed. Cozy little concept, had it proved functional. But while it's a wonderful fantasy to think of convenient, nonobstrusive solar panels powering the boat. . .
. . . .We all know HOW MUCH solar real estate is required to power SO LITTLE.
But they got one thing right, I'm sure. The use of a bicycle boat. Or I'm sure you know what a pedal boat is. If you can pedal it, you can power it with a 400 watt motor and it will run just as well, if not better.
Considering the remark in another thread about avoiding rowing a boat with a fried controller to shore while dragging a 10" propeller, I'm sure pedaling it would work far better. Basically we'd be talking about a moped boat.
Human-Power Boat Patents 1869-1962