Chip Yates is an AMA Pro Racer who got the electric motorcycle bug in 2009 because of that years TTXGP on Isle of Man. He's spent over a year developing an electric motorcycle he claims will match or beat the gas bikes. It's been a long time coming but he's finally gotten his bike on the track and run in a race.. but first a bit of background:-
In December he had a track day at the Infineon race track, and I was able to be there, take pictures, observe, and write up a report: Chip Yates (SWIGZ.COM Racing) shows electric superbike motorcycle at Infineon
In November the TTXGP announced some rules changes, and Chip's bike turned out to be too heavy to race in the TTXGP. Hence he's gone to race with this gas bike racing league: SWIGZ.COM Racing in WERA claiming exclusion by TTXGP and e-Power
In October he unveiled his bike at The Battery Show (a trade conference) and I was able to see it there, take pictures, and write up a report: Chip Yates (SWIGZ.COM Racing) unveils electric superbike motorcycle
This afternoon he posted some tweets about the race, and promised a press release and pictures tomorrow:
EPIC! 3rd place podium in Heavyweight Twins Superbike!
Even more epic! 2nd place podium in Heavyweight Twins Superstock!
And...did gasoline bike laptimes!! Best of 1:39 àt 158mph top speed!!
History has been made, and the gasoline bikes are on notice!!
We got a ton of pro photos to upload later with worldwide press release 2morrow!
His "history being made" thing isn't quite correct. He's ignoring a previous gas bike race that included an electric motorcycle. See Team Electra in history-making win of electric motorcycles against gas bikes Team Electra is one of the 2010 TTXGP race teams and went to a gas bike race in September, and won. See the report for details - it appears my article is the only reporting on this event and it's not surprising that Chip didn't know about it, except I did tell Chip about it in December.
The pictures below were sent by Chip (feel free to use - Photo Credit: Julie Yates) from yesterdays practice sessions.
He Wrote:
The best of those 6 laps was a 1:47.06 and top speed of 154.5 MPH on the NASCAR banked oval front straight at Auto Club Speedway!

... Our day was cut short by 1 of our 102 lithium ion polymer pouch cells failing and being significantly lower than the other 101 cells in the pack. The risk of drawing this cell down below its critical voltage and potential for additional cell damage or fire made us tow the electric superbike home to our shop this afternoon, where we carefully extracted and successfully replaced the cell, but missed the rest of the trackday.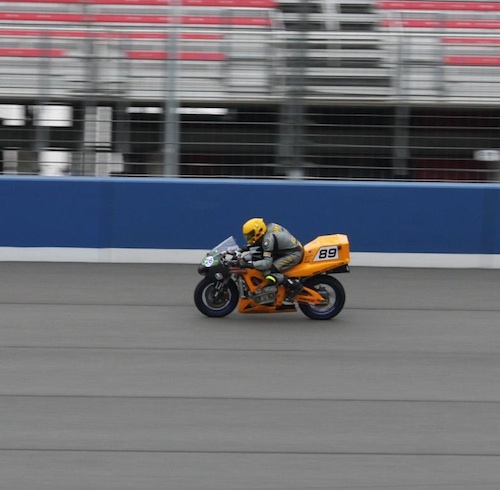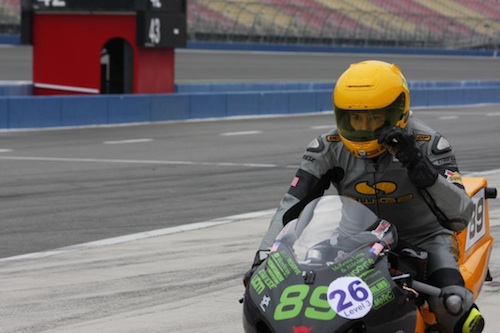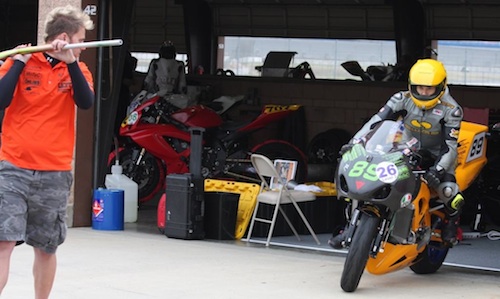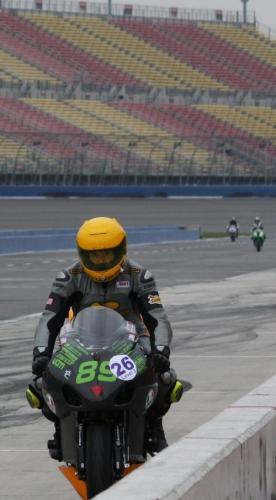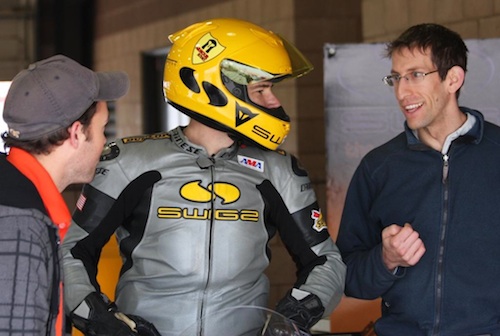 @PinkyRacr recorded this video after the race: