Recently, we modified a new electric tricycle to add a custom rear seat for kids. The electric tricycle was the EW-54 by E-Wheels, which is a fun and very capable electric cargo tricycle with a 17 mph top speed and 25 mile range. It sold by High5Scooters.com in Clearwater, FL, which is west of Tampa on the Gulf of Mexico. Normally, the EW-54 comes with a very large rear basket as shown below which can easily carry anything from pets to a shopping cart's worth of groceries.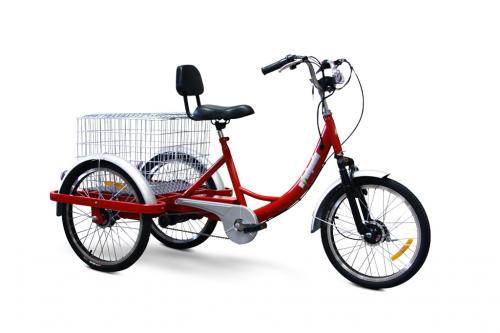 Recently, a mother of two small children asked High 5 Scooters if we could make up something that would allow her to take her two kids with her on short trips such as to a friend's house or to the beach.
We thought it was a worthy idea and so a project was borne to modify the EW-54 to safely carry two small children behind an adult rider.
After some minor trial and error, a seat was designed and built for two children and installed in place of the large wire basket. See photos below. The seat is all wood as are the wheel coverings. The latter were added to keep small hands out of the spokes! And finally a seat belt was also added to keep the children securely aboard the trike.
As you can see from the pictures below, it came out pretty well. The customer was overjoyed as were we!