You know, I have been really thinking about the range limitations of the Vectrix lately and while i am still completely commited to going this route (i am making the final purchase today) I really wish there were some way to combine some of the benefits of a standard scooter into the Vectrix. I was really pretty inspired by the Chevy Volts internal generator (as well as some of the reports of people carrying honda generators)and started thinking about how this could possibly be built into the vectrix. The way i see it there are three options:
1. (would not require any support from Vectrix corp) Mount a small 50cc-250cc engine on the right side of the rear wheel in tandem with the electric engine. combine this with an electric servo that can translate electronic signals from the throttle to the manual signals the engine is expecting. Mount a toggle switch that is hooked up to a relay which is then connected to the electronic throttle on the right grip as well as a standard starter switch. Essentially, when the battery gets too low you simply flip the toggle and mash the starter switch which fires up the ICE engine and allows you to ride the vectrix at 25MPH(50cc)-65MPH(250CC). In this scenario you would still keep the onboard electronics active and could still use regen braking to add charge the battery but all acceleration commands would go to the ICE engine. Additionally, you could use an alternator to charge the battery (using the same path as the regen braking electricity) with normal driving and idling. You could even build a fuel tank for the engine in front of the seat as in this picture: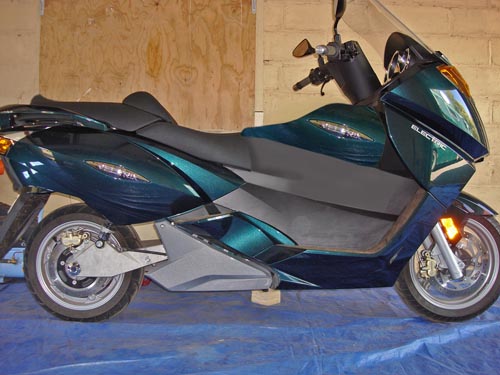 2. (also would not require any support from vectrix corp) You could use a similar setup to the above plan but you could have the engine be connected directly to an alternator rather than to the rear wheel. From this alternator the engine would act as a simple generator and provide power directly to the electric motor when requested, otherwise it would charge the main batteries (ie: when idling or braking) using the same path as regen braking. This is most similar to the Chevy Volt i believe.
3 (would require support from Vectrix corp) The same setup could be used but the ICE engine always be active and ready using an idle stop technique. The engine would come on when more speed is needed (allowing speeds in excess of 100+) but would work in tandem with the electric motor. The engine would stay off for normal commutes but would come on and employ a hybrid mode much like a PHEV prius.
what do you guys think? would this be feasible with the Vectrix? I was thinking about contacting some of the members of the Denver electric vehicle council to see if anyone would be willing to take on such a conversion.