I feel like if I took a small electric motor and hooked it up to the chain sprocket on the side of the motor it would be a little more useful of an assist then the stupid pedals, besides one of my pedals got loose because the scooters fell over onto it. With a passenger this is essential to have more power on an incline where there's a stop sign. I don't know why there's a sticker saying my scooter passes the Canadian requirements (500w) but I emailed x-treme and they said that some of the scooters were mislabeled and that they are ALL US models, and that they would not recommend cutting any wires from the controller, denying any kid of governor. In order to do this one option is to remove the chain off of the pedal shaft and use a chain with a master link to go right onto a small electric motor between 500 and 1000 watts under the seat.
If the gearing is right I can figure out how many RPMs are for the 16 inch wheel at 20mph and gear it high enough to take over after the scooter reaches 20mph to go faster. With the higher gearing it would get more speed off of the same battery without having to buy a new hub motor. Since the sprocket on the side of the hub motor is small a large gear would be needed for low end and a small one for top end on the secondary motor.
I thought of adding a sprocket to power the pedal shaft with a motor but then I realized I might not be able to remove that piece, and I'd rather not have to weld, at least if I mounted a motor under the seat I could somehow bolt a plate across that I could make a lot easier. If needed I know someone who could make a design in CAD and get it CNC'd.
The other option I was thinking of might be a bit of a run around solution, but judging by the way the pedals hook up you could input power into those square pegs from each side going to a common drive shaft where your feet are and either add gears to a better pedal system on the foot area that or use an electric motor on the floor area to power it.
As far as not knowing the exact wattage of the model that amazon sent me in October I can tell you that when I am going full throttle it is drawing a little over 1000w from the battery according to my G.T. high precision watt meter I just got from china for like $25. The project took about 5 hours to complete and I bought 20 feet of 10 gauge stranded wire and a 30 amp circuit breaker from home depot to put in the glove box to cut the power to the watt meter when the bike is off. I had just enough wire and by using a power socket from an old computer PSU and a male power cable I was able to make something that did not require cutting any wires on the scooter, and I can just remove it if it causes any problems.
The 30 amp circuit breaker should be just fine right? People say the bike draws a maximum of 19 amps, and it's 40 amp hour not 40 amps, correct?
Watt meter in steering yoke with bike computer for accurate speed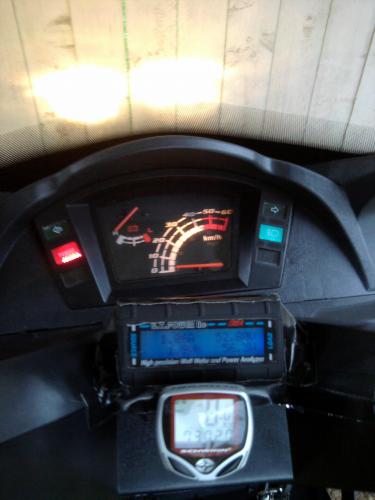 Sticker that shouldn't be there, I paid too much to get a 500 watt one!!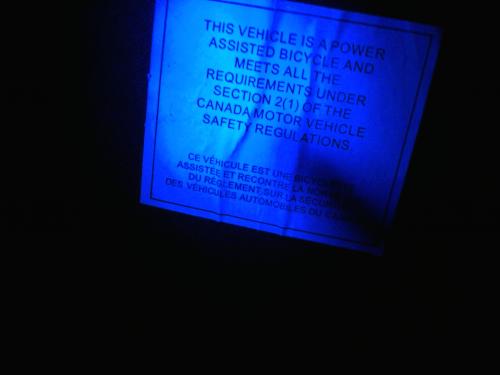 Ever wonder if it's not the most aerodynamic shape possible, as the front fairing mocks a sport bike where those are made to cool an engine past the wheel?
Experimental dustbin fairing that ended up getting destroyed by my father because he thought it was trash: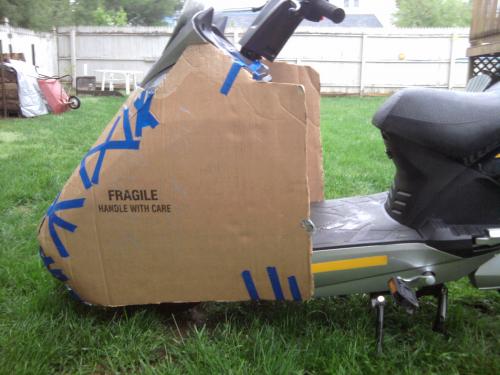 Thanks to anyone who can help, I just want to go faster and hopefully we can help each other get our money's worth out of these things.