During the several years that Electric Vehicle Mall has been in business, we have noticed a few reoccurring problems with the maintenance of electric bikes, mopeds and bicycles that are both expensive to fix and completely avoidable. We plan to put out a series of posts that address each of of these issues. The first post below relates to how to change a rear tire on a hub motor without ruining the engine - which unfortunately can easily happen if certain precautions are not made.

How NOT To Ruin Your Hub Motor When You Get A Flat Tire: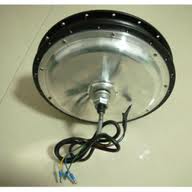 Many electric moped bikes, electric bicycles and electric motorcycles are equipped with an extremely efficient, durable and quiet electric motor that is located in the hub of the rear wheel. In order to propel the bike forward when you turn the throttle, the motor spins the rear wheel around its axle. The axle of the motor does not spin! Rather, the axle is firmly anchored to the chassis of the bike. To replace a punctured tube or tire on the rear wheel, the wheel must be removed from the rear swing arm (part of the chassis). Often, it is necessary to disconnect the motor wires from the controller to make replacing the tube and tire possible. Afterwards, it is vital that rear wheel be properly reinstalled and the motor wire reconnected to the controller. If the rear wheel is not properly reinstalled, under throttle, the axle will spin and tear out the wires that enter through the end of the axle. If that happens, your motor will be ruined. So, it is very important that you either hire a qualified mechanic (that understands hub motors) to change any punctured tube or tire on your rear wheel OR ensure that you reinstall your rear wheel correctly yourself. In particular, it is vital that that the rear wheel be reattached to the swing arm in the exact reverse order that it was removed (so that the axle is properly anchored to the swing arm) and that the axle nuts be tightened with a minimum of 70 foot-pounds of torque. We recommend that you use a digital camera to take pictures (or notes with good drawings) at every stage of the removal of your rear wheel so that you can properly reattach the motor. Failure to follow this advice is certain to result in an inoperable hub motor and the considerable expense of having to replace it.