Yesterday was the 39th annual Silicon Valley EAA EV Rally (http://eaasv.org/rally.html). I've been attending this event for 13 years or so, this was the first time when being able to bring a car to show. Always in the past I've brought electric bicycles or motorcycle. We had to push a bit to get the car ready to show, it looked awesome, and the show itself was awesome. Supposedly we had more people attending than last year - though to me it did not seem so. One new thing was the presence of commercially built modern electric cars, because both the Nissan LEAF and Chevy Volt started being shipped to customers since last years rally. A few instances of both cars showed up but as in previous years we had a nice mix of conversion electric cars, commercially made vehicles from 10+ years ago and (this year) newly made commercially built EV's.
A big difference over last year was the absence of electric bicycles and scooters. Always before we had several electric bicycle/scooter dealers show up. For example Neal Saiki (co-founder of Zero Motorcycles) used to attend this show while his company was still called Electricross (before it became Zero Motorcycles). Another frequent attendee in the past was Electric Motorsport. None of them showed up, which I believe may have been because of 350.org's Moving Planet thing which also occurred yesterday. I'd think electric bicycle/scooter dealers might have been called upon to show up at those events, which may have appeared more attractive than being at the EV rally where the scene is dominated by electric cars.
When I started coming 13 years ago - that was in the era when GM's EV1, Honda's EV+ and other electric cars were being built and leased to the public. In that era GM, Honda, etc tended to show up at this EV Rally. In the intervening years the large companies didn't come to it. Not even Tesla Motors whose headquarters are a short drive from where we hold the show. One year there was a presence by Vectrix but I think that was by the San Francisco dealer.
This year there were two dealers, one showing a Nissan LEAF, the other showing a Chevy Volt.
Other vendors included:-
EV Miata (http://evmiata.com/) - Lightning Motorcycles (http://lightningmotorcycle.com/) - Electric Motor Werks (http://emotorwerks.com/) - Kleen Speed (http://www.kleenspeed.com/) - Real Goods (http://realgoods.com/)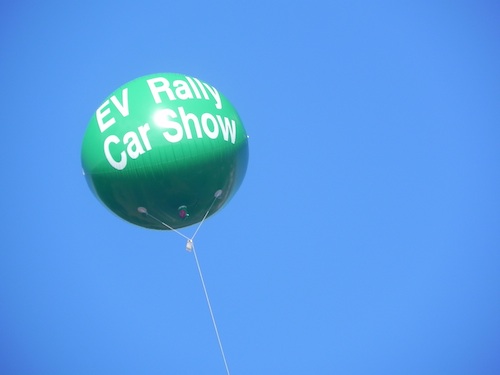 My car - it got a lot of attention. Read to the end for something special ..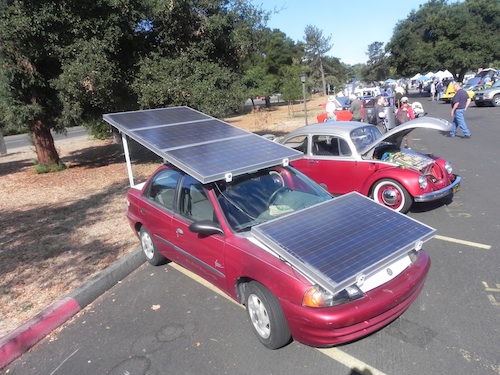 Ever wanted proof why solar panels aren't a good idea on electric cars. Here it is. The car underneath there is a Solectria Force. Solectria is now known as Azure Dynamics and concentrates on building AC drive train systems, but in the 90's they were doing EV conversions using gliders they got from the major car companies.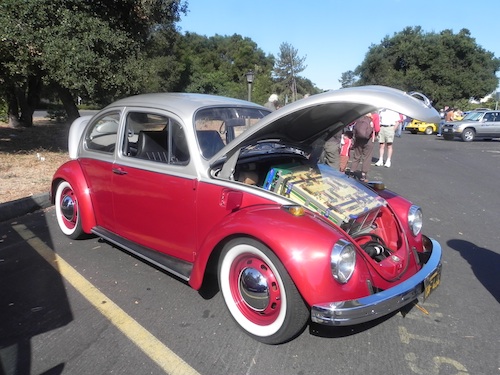 A rather nice VW Bug conversion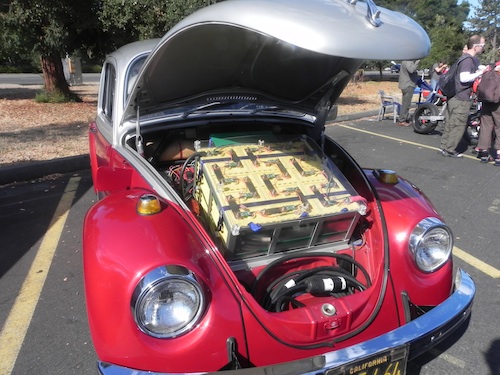 Battery pack made from 200AH thundersky cells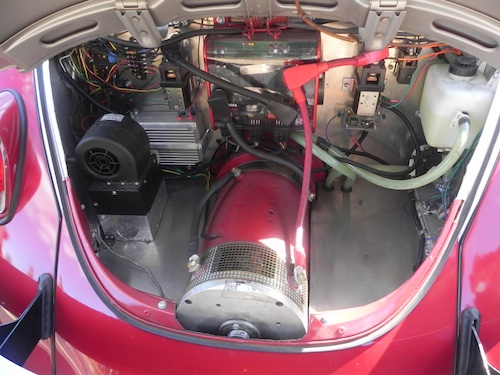 Engine compartment - using a NetGain Warp9 motor.
The car's battery pack fills all the available cargo space in both rear seat and the truck (up front).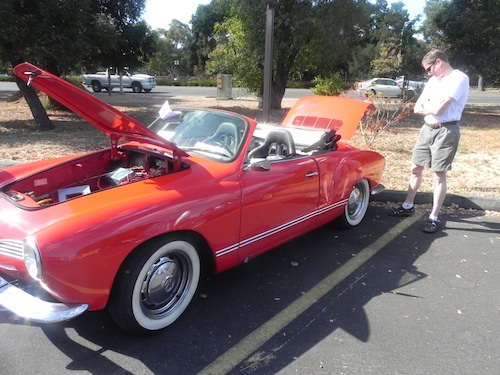 My car got a lot of attention.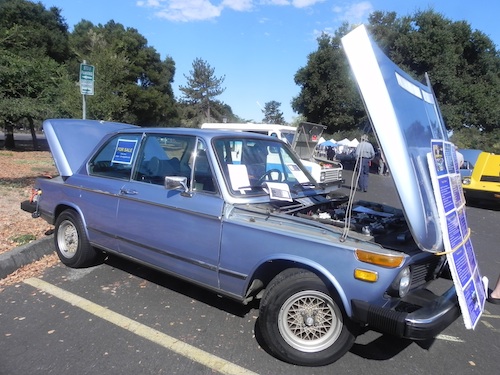 An older BMW conversion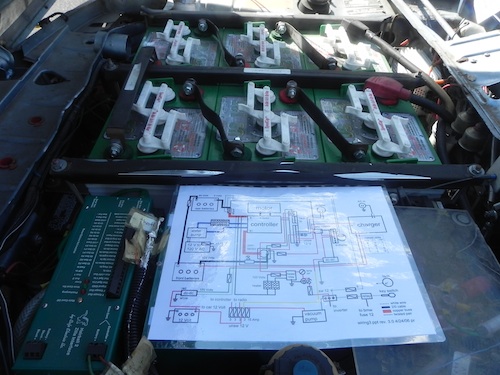 Powered by lead-acid batteries. The car also had extensive documentation on-hand.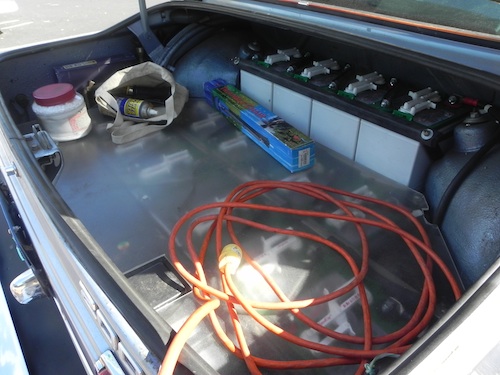 Trunk pretty much filled with batteries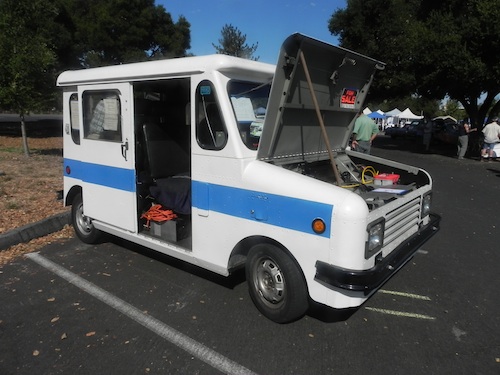 This is a U.S. Postal Service Long Lived Vehicle from the 1980's. Way back when the Cupertino CA post office had a full fleet of electrified LLV's manufactured by ??Grumman?? (whoever is the normal manufacturer of the USPS LLV's). This is one of those LLV's and is owned by Stan Skokan who tells me he'd once owned all of those LLV EV conversions.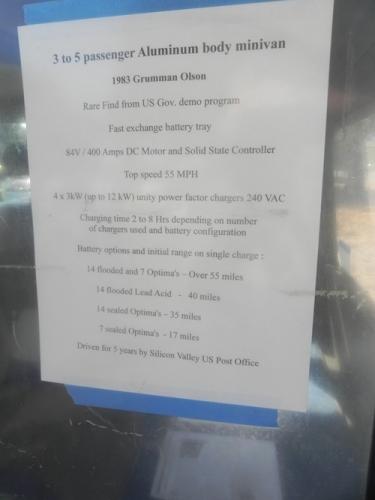 Some spec's of the LLV's. It came manufactured with a quick change battery setup that took a couple minutes to accomplish.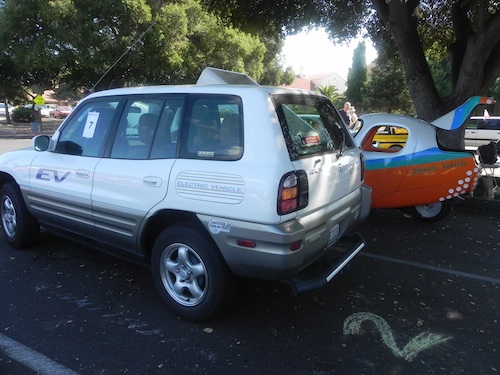 There were a few of the original Toyota RAV4 EV's from 10+ years ago. There were also two Sparrow's.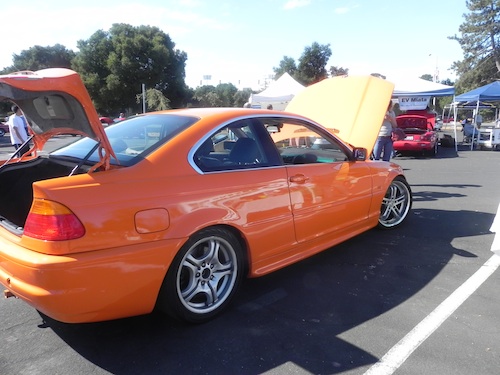 The BMW conversion by Electric Motor Werks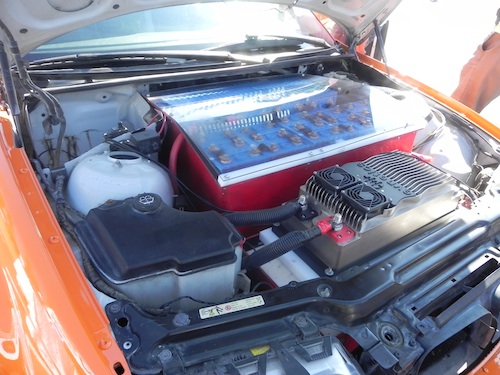 Innards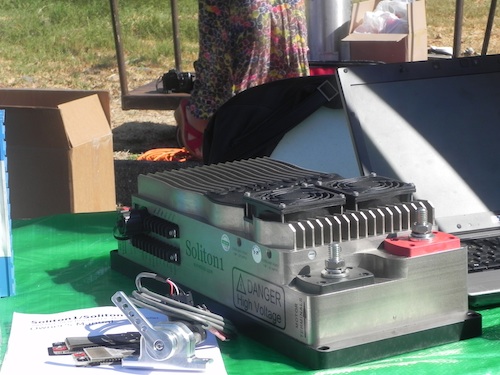 EMW had this Soliton1 controller on display. IIRC this controller is designed by NetGain and meant specifically for use with their Warp11 motor.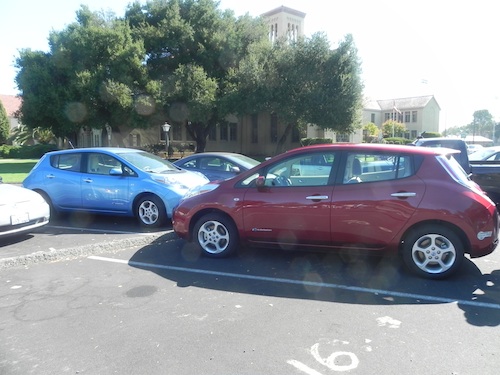 A couple of the LEAF's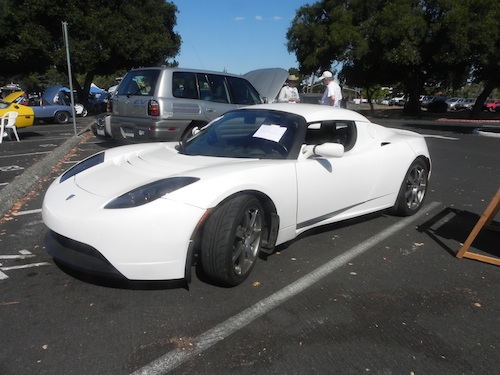 One of the Tesla Roadster's on-hand. While Tesla themselves didn't show up, several Tesla owners were on-hand.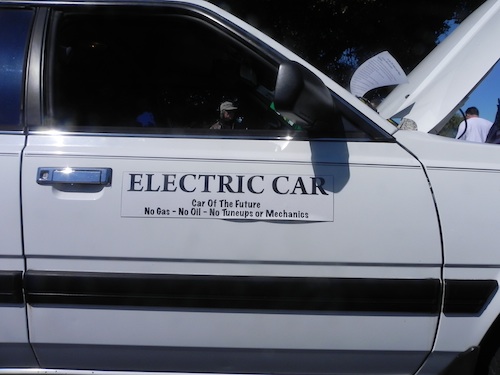 Nice message, eh?
A kind of Electrathon type vehicle. It sported a Moped license plate which in California means it can go at up to 30 miles/hr speed.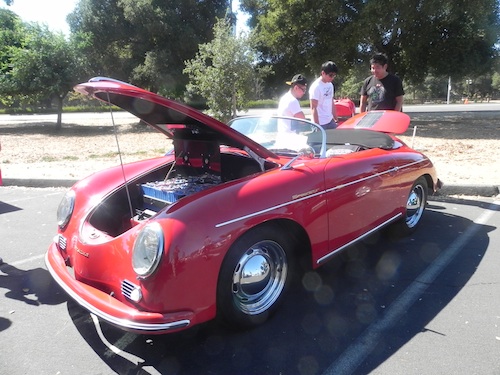 A very nice Porsche Speedster conversion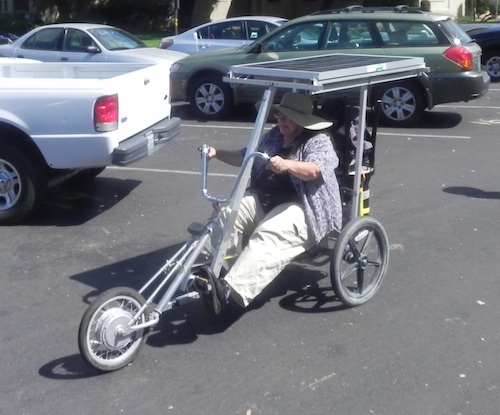 A small solar powered trike
And another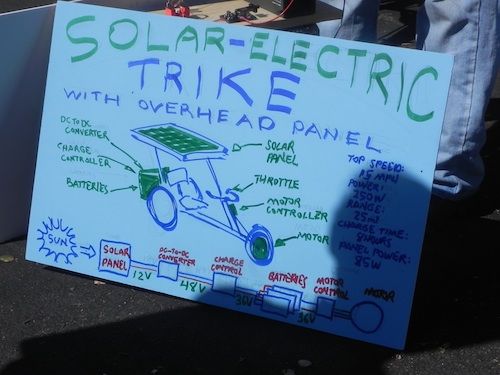 In case you were unclear on what this was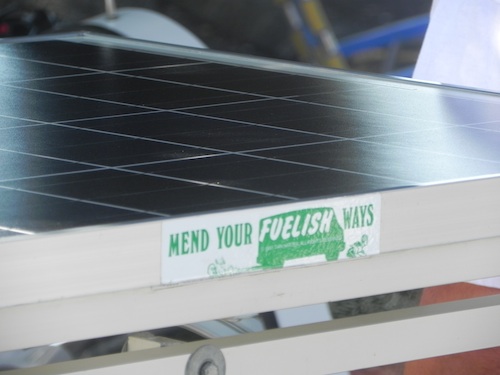 Another nice message
Another EV Karmann Ghia conversion.
The drivers cabin was fixed up with this fancy dashboard with all sorts of lights and switches. There were LED displays that could show patterns of moving light on both the front and back end of the car, and controlled by switches on the dashboard.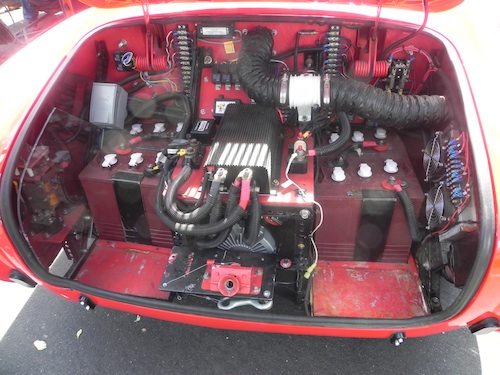 Almost all of the cargo space on the car was consumed by the battery system. It uses 145AH Flooded lead-acid Trojan batteries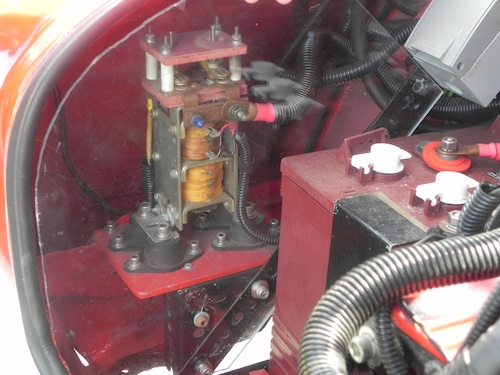 The most massive contactor I have ever seen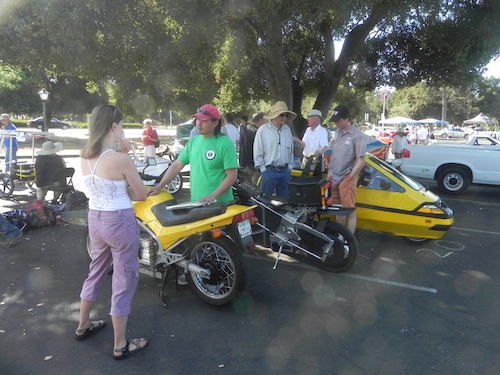 Alex Tang with his Honda motorcycle EV conversion. It uses an Enertrac hub motor.
Bob Schneeveis and his totally custom designed EV motorcycle, he's talking with an engineer from Mission Motors
Behind them is a City-El - they're commercially made in Switzerland.
Two electric trucks built by U.S. Electricar. That company built EV's in, IIRC, the 1980's based on gliders they got from major manufacturers. ZAP's long-time CEO, Gary Starr, was the founder of US Electricar.
One part of the EV rally is a contest for the "Best" EV's of various attributes. For example Alex Tang won for BEST EV Motorcycle.
As you can see I won for "Best Classic EV Conversion". FWIW