Electric airplanes are an idea that's come quite a ways from 2008 when I heard of the first one being flown at the Oshkosh fly-in air show. They're still in the small trainer aircraft phase but flying time is now up to 2.5 hours or so, and a 200 mile range. I just got home from Moffet Field where the Green Flight Challenge had a public showing today. I have a bunch of pictures etc ..
The Green Flight Challenge has $1.65 million of NASA funding, and is "sponsored" by Google (not real clear what that means). Part of the competition took place over the weekend at a small airport in Sonoma County. The competing aircraft were required to fly 200 miles in less than two hours using the energy equivalent of less than one gallon of gasoline per occupant.
They describe a vision of emission-free travel, quiet, needs no fossil fuels, no expensive roadbed, enabled by a vehicle that never crashes, and can land on less than 2 acres without people even noticing.
Actually, I can think of some military uses for that which makes me want ... snipped ... that would detour from this report. Anyway, I did meet a gentleman working on designing V/STOL vehicle's that would work both as "cars" and "airplanes" who talked about the potential land use gains if there were widespread use of air cars that could use a "pocket airport" and didn't need highways.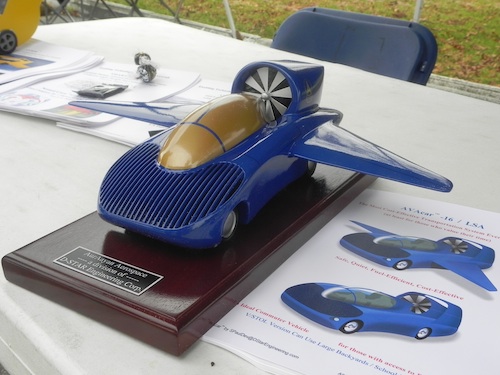 That's a hybrid electric air car powered by some kind of turbo fan thingy. The "AVX Fan" is super-high fuel efficiency, very low noise, 25:1 thrust/weight ratio. The company is DStarEngineering.com. It's an interesting idea but would it ever happen? For it to happen would require a) better autonomous vehicle designs so the air cars fly themselves b) some changes to flight and aircraft rules c) finishing the design of the vehicles so they're not just toy models ..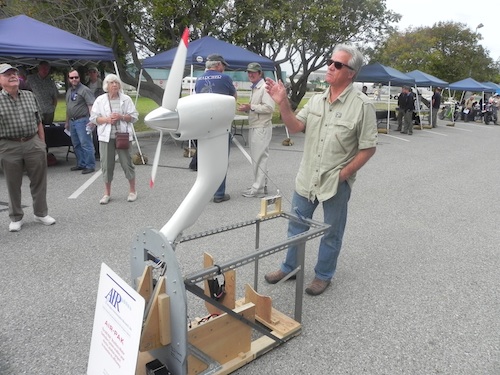 This is a little propeller unit meant to be a take-off assist device for sailplanes. It's pure electric and it has a 12 kilowatt motor brushless in the head of the thing, just behind the propeller. The setup shown here is the bulkhead just behind the pilot cabin, the pilot operates a lever that's both an on-off switch and throttle. Move the lever, and the propeller unit raises up with hydraulics, move it some more and the motor spins, etc.
The website is www.MHOxygen.com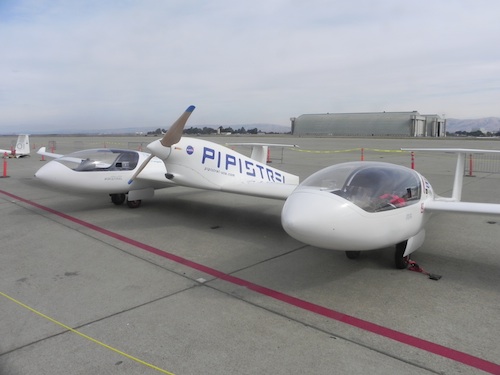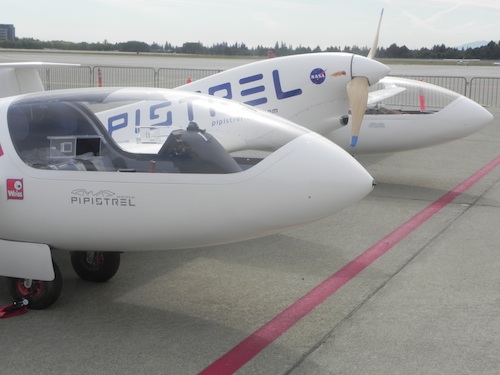 This is a pure electric airplane - four passengers in two cabins line this, and a propeller in the middle. It has a 145 kilowatt motor, 69 foot wingspan, stall speed < 52 miles/hr, empty weight 2490 lbs. I didn't catch the size of the battery pack. On the side of the aircraft it said "Dow Kokam" - indicating whose cells they used.
www.pipistrel-usa.com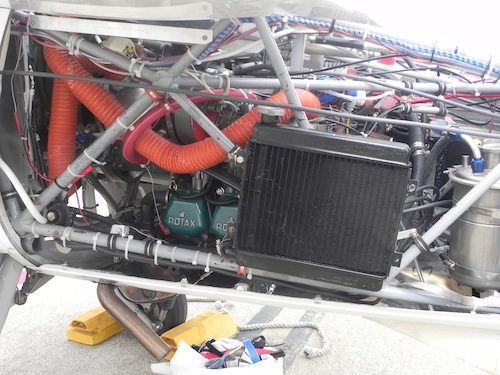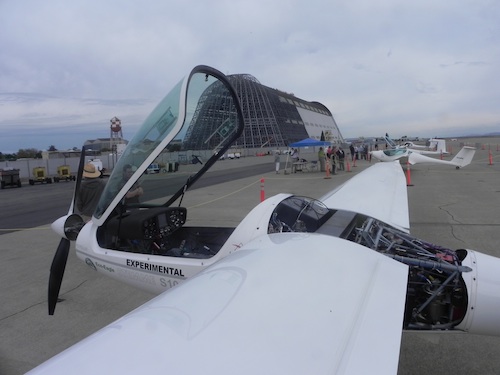 This is the "Eco Eagle" from Embry Riddle Aeronautical Univ. Wingspan 75 ft, empty weight 1970 lbs, and it's a hybrid electric (note the radiator). The gas engine is used only for takeoff and is apparently 140 hp. The electric motor is buried beneath the stuff for the gas engine, and the battery pack is in the wings. He said the pack was 100ah LiFePO4 cells and said it was "100 kilowatt hours" but then apparently was confused because that would mean a 1000 volt pack, but the pack is 142 volts max. I think he meant 10ish kilowatt-hours.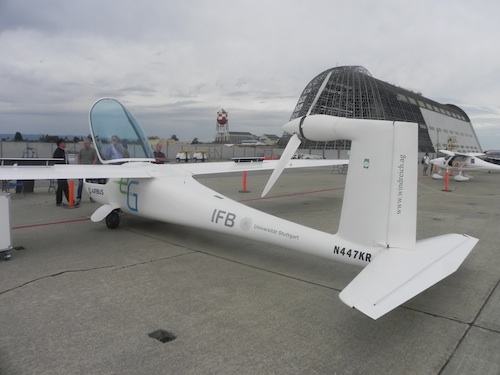 Another pure electric plane, by a European team. Two passenger, 55 foot wingspan, 1670 lbs empty, 60 kilowatt motor, ...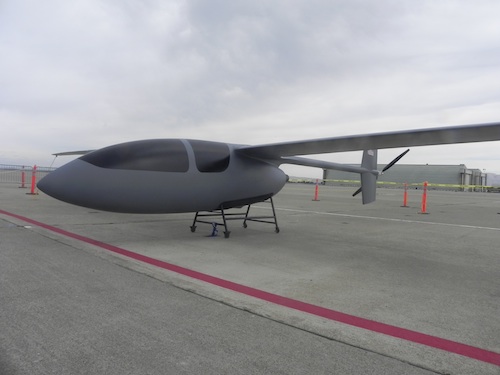 This is a mock-up of a plane that didn't get finished in time. Their idea is a diesel electric hybrid, and the company has been developing some interesting diesel engine technology.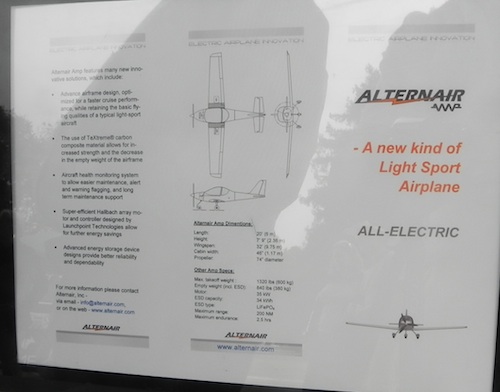 Hope you can read this - they didn't bring an airplane, but unlike the others they're close to being able to sell their vehicle. It's a two seater airplane meant primarily for trainer aircraft, recreational flight, and that they have flight training schools chomping at the bit to buy their plane. Expect delivery in 2014. The company is www.alternair.com. The flyer talks about carbon composite for the propeller, parts of the airframe, etc. It carries a 34 kilowatt-hour battery pack of LiFePO4 cells. It has a CHAdeMO charging port that we know best as the fast charging system for e.g. the Nissan LEAF and Mitsubishi iMiev, but according to them can be run at any DC voltage. They're interested in charging with DC rather than AC so that they don't carry the charger on-board.
It's 20 foot length, 32 foot wingspan, 840 lbs empty weight, a 35 kilowatt motor, and 2.5 hours flying time.