I had a recent issue with the Karmann Ghia and it spent 2 months in the shop with the transmission being repaired.
I'd assumed the car had an auto-stick transmission. It had no clutch pedal, but a stick transmission. Assuming it was an auto-stick transmission, I didn't worry about the no clutch pedal and just shifted the thing. I've got over 30 years experience driving stick shift but never learned the tricks of shifting without the clutch, and in any case didn't know in this case it would have been necessary. I'd gone through the EV Album finding people with Ghia conversions and asking them what they did with the transmission. One of them said he also didn't have a clutch pedal, and was simply careful with shifting. Uh.. okaaay...
Turns out the transmission was not an VW Auto-Stick but a normal VW transmission. And that the transmission had gotten "destroyed" in the process of driving around.
The car has a NetGain Impulse9 motor - an 800A max controller - but the thundersky pack really doesn't deliver more than 300A easily (I can get it to 400A on pressing the accelerator on full).
With that setup I've found it best to start the car in 2nd, then if needed I'll shift to 3rd for expressways and to 4th for driving on the highway. I've had it up to 80 miles/hr.
For repairs I brought it to a local shop I'd worked with last year - this shop turns out to have been where Otmar got his start in doing EV conversions over 20 years ago. Means the shop owner has seen a few EV conversions, and I just picked them at random. In any case they had to farm the transmission repair out to a VW specialist, and then they installed a hydraulic clutch pedal of the sort this shop uses in the race cars they build. One area this shop specializes in is fabrication for race cars.
Here's a couple pictures of the motor and transmission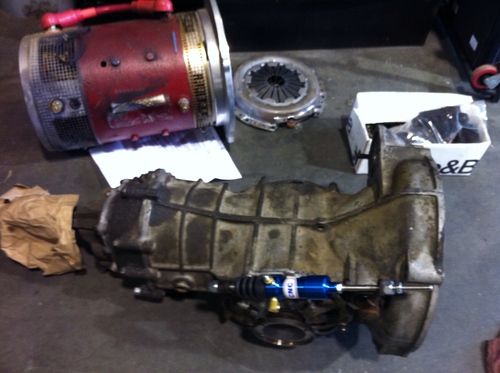 The motor and clutch plate and adapter plate are in the background, in the foreground is the transmission, and that blue bit is the hydraulic cylinder. This cylinder operates the clutch.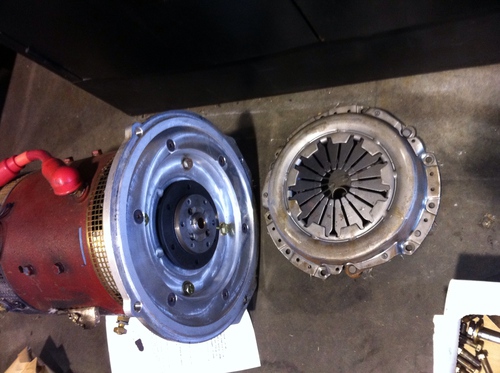 Close up of motor and adapter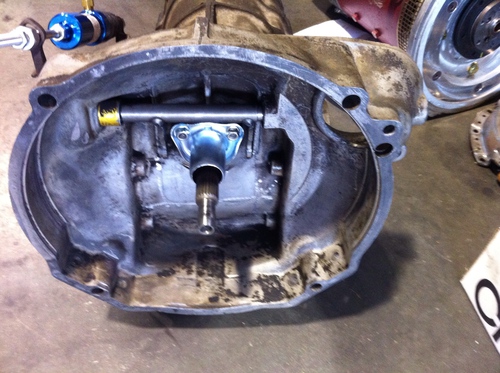 Close up of the transmission housing
The result is pretty good - I now have a clutch pedal and am shifting with ease.