In case any of y'all own a Chevy Volt, you're going to be receiving a registered letter from GM detailing a not-quite-recall that is going to begin soon to install safety modifications.
The article linked below has the best summary I can manage on the issues and the fix. Namely - last May a Chevy Volt caught fire following a crash test. This was disclosed in November. Ever since the political naysayers who want to kill EV's have been using this as further ammunition to lambast the Obama Administration and to call EV's a joke and worse. The people doing this don't even care that they're lying, they're just out to get political advantage.
Anyway.. to the technical bits.
The vulnerability (see GM's press release material that I reposted here:- http://blog.greentransportation.info/2012/01/gm-announces-enhancements-to-chevrolet.html) makes it clear - the issue arises from battery coolant leaking onto the BMS circuit boards. I'm not entirely clear how it takes 3 weeks for the leaked coolant to form a fire danger. There's been discussion of coolant crystallizing and then eventually forming a conductive circuit. GM keeps repeating that a problem in this is that the NHTSA crash test procedures did not "depower" the battery pack, that is discharging the batteries, and that because the batteries still had a charge in them that they were a short-circuit danger.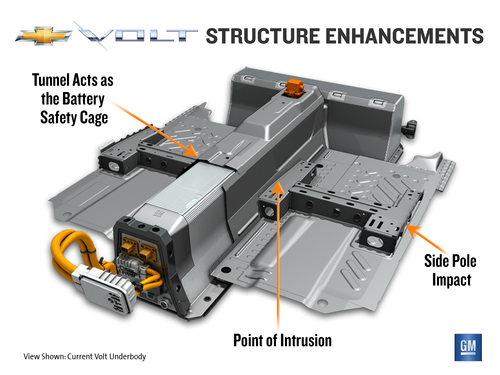 This is a picture from GM on the fix they developed.
Earlier I'd looked closely at pictures of the battery pack. There is a steel tray, with a hard industrial grade high impact plastic cover. This picture shows a metal sheath put around the top of the pack, and then other members added to the system which GM says will spread out the impact load.
http://www.examiner.com/green-transportation-in-national/gm-announces-safety-enhancing-fix-for-chevy-volt-battery-pack