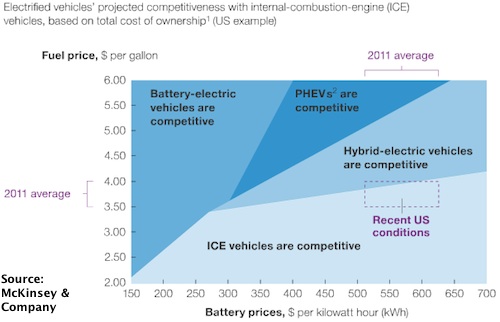 A management consulting company, McKinsey & Company, did this study, published last week, looking at factors that could lead to mainstream adoption. They identified battery pack prices versus gasoline prices as the key dynamic.
The higher gasoline prices go, the easier it is for an electric car to be competitive on total-cost-of-ownership. Likewise the lower battery pack prices go, the easier it is for the electric vehicle to be price competitive.
The study suggests that the price of a complete automotive lithium-ion battery pack could fall from $500 to $600 per kilowatt hour (kWh) today to about $200 per kWh by 2020 and to about $160 per kWh by 2025. In the United States, with gasoline prices at or above $3.50 a gallon, automakers that acquire batteries at prices below $250 per kWh could offer electrified vehicles competitively, on a total-cost-of-ownership basis, with vehicles powered by advanced internal-combustion engines (exhibit).
These figures represent the price per effective kWh, assuming batteries with 70 percent depth of discharge. The price of battery packs includes the price of battery cells, battery-management systems, and packaging. Unless otherwise noted, values here are reported in real dollars, indexed to 2011.
They used a five-year total-cost-of-ownership model that considers the prices of vehicles with advanced internal-combustion engines (in other words, vehicles that satisfy future US government fuel economy standards) and electrified vehicles adapted to make efficient use of on-board energy storage (using 150 watt hours of electricity per kilometer traveled). Note that electrified vehicles offer features, including better acceleration and noise levels, for which customers may be willing to pay more.
Links:-
https://www.mckinseyquarterly.com/Automotive/Strategy_Analysis/Battery_technology_charges_ahead_2997
http://www.torquenews.com/1075/electric-cars-become-inevitable-cost-competitive-2020ish-says-report
http://greentransportation.info/2012-mckinsey-report-says-electric-cars-will-be-cost-competi