Hi Folks,
I now have possession of a Runke Charger. This particular one is a 'failed' Runke charger due, I'm afraid, to a mistake.
The mistake was to try installing the 'Modified' software and not KNOWING which charger was fitted to the bike. A very easy mistake to make. Without physically seeing the charger the only other means of identifying it is via the software version as reported in the up-date page of the Diagnostics software.
Anyway, my sympathy goes out to the owner of the bike, he was doing his best to improve on the crappy Vectrix charger software and made that one tiny mistake.
However, he was kind enough to send the charger to me and I have been taking a look see inside.
The Runke charger is very much less complex than the ESD charger. Component count is less than 130 components. Nothing is 'potted' which will make it very much easier to repair if/when that might be necessary.
It uses the same control chip as the ESD, that is the PIC30F4013, and therefore it may prove possible to re-write the programme for that charger with a view to improving the battery longevity and adapting it for Lion charging when a battery swap becomes necessary.
What I am lacking at the moment is a copy of the hex file which is used to programme this charger. SO if anyone hads a copy that they can pass to me. Then I would dearly love to hear from you.
Just for fun Here are some pictures of the inside of that Runke Charger: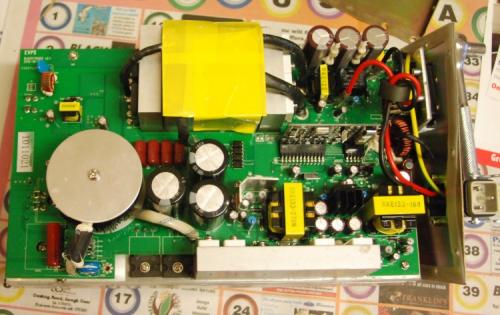 A view of the inside.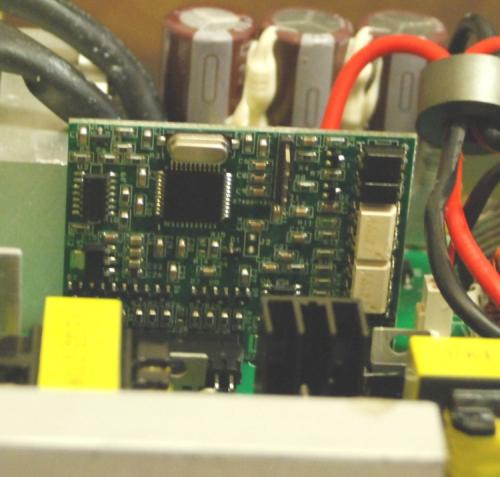 The Sub Panel carrying the PIC Microcontroller.
There's not a lot to this one, we have a chance here. Perhaps XVectrix could offer a little help this time? that would be nice.
Come on everyone out there, someone must have a copy of this file.
I'm asking for some help and hoping to get it.
And Telling it like it is as always,
The Laird.