On Monday night Tesla finally announced the SuperCharger for the Tesla Model S/X/etc.
Writeup: http://www.torquenews.com/1075/tesla-motors-revolutionizes-electric-car-supercharger-network
Information: http://www.teslamotors.com/supercharger
A couple months ago I wrote up a detailed summary of the Model S charging options including the SuperCharger: http://www.torquenews.com/1075/tesla-unveils-details-model-s-high-power-and-flexible-charging-system
What does the Supercharger mean? It's a high end charging system for the Model S/etc. It runs at a 90 kilowatt charging rate and Tesla says it will do a complete recharge in about an hour. With the top end 85 kilowatt-hour Model S, that means 250-300 miles of electric driving (!!) pop into a Supercharger station for an hour, grab a bite to eat etc, then get back on the road. ROAD TRIP
It is integrated with a solar carport and whatnot .. presumably to mitigate demand charges and drive Tesla's costs through the roof. Demand charges are imposed by most utility companies for electricity uses that demand huge electricity spikes, such as a 90 kilowatt load that suddenly pops up because an electric car plugs in.
The supercharger is proprietary to Tesla meaning it won't be available to other electric car owners at all.
The supercharger is free to use for Tesla owners. Meaning that not only can you take a road trip with an electric car, your fuel is free.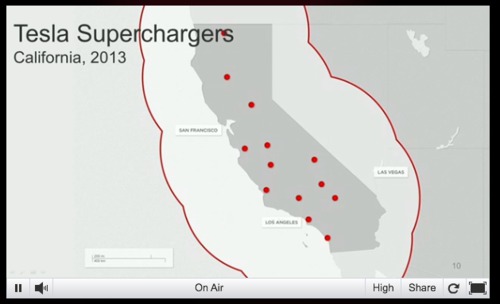 The planned network for California by next year. Note that some of the network is ALREADY INSTALLED
This is their plans for two years from now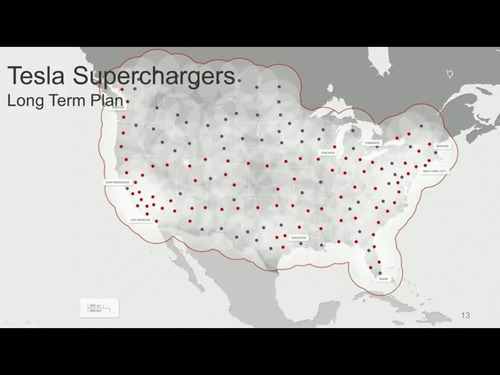 And five years out