A new E-Bike dealer recently opened about 60 miles from me.
I'm conscedering buying:
MSRP $1495.00
Safari 750
The New Electric Powered Assisted Bike
Rides Like Motorcycle Parks like a Bicycle
Fun, Practical, Comfortable for Two
No Greenhouse Gases or Noise Pollution
*No Licensing or Registration Required*
10% Tax Credit Available until 12/31/2012
The Safari 750 watt Motor gives you plenty of power; the 60/20ah volt battery system gets 30 miles a charge. Stable riding and a 330 lb. payload
Standard Equipment
CPSC Approved Per 16 CFR 1512
750 Watt Motor CE Approved
60 Volt/20AH Lead-acid Battery
32 KPH 6-8 Hours to Charge
Large Headlight, Turn Signals, Horn, Brake Light,
Drive and Passenger Footrests, Removable Pedals,
Lockable Storage Compartments, Anti-Theft Device,
Two Kickstands and Rear View Mirrors
110V Charger, Tool Kit and Tire Pump
One Year Replacement on Motor and Controller
Accessories Available
1. Riding Poncho covers you and your bike, clear plastic over headlights allow for night riding. Covers your bike when outdoors.
2. Riding Helmets with Face Shields
3. Attached handle bar lined riding mittens keep your hand warm and dry.
4. U-Shape Locks
5. Lithium battery System
SALES, SERVICE, PARTS
Free Delivery in the State of Washington
Manufacturer: You Yue Electric Bike Tech. Co
Shenzhen, China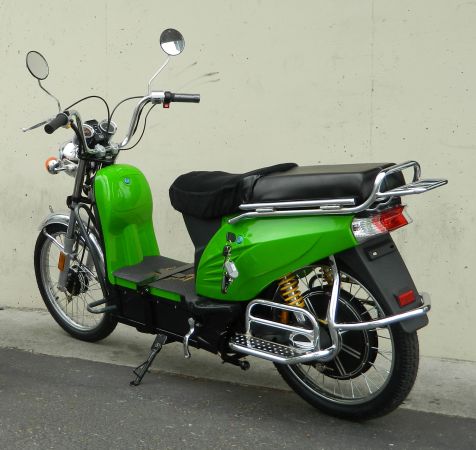 I can buy for about $1000.
1. Yes the store will hAVE a service shop.
2. Major replacement parts i.e. motor, controller, tires, inner tube, ect. will be brought in with the spring order.
3. The wheel size is 2025/2.50-17 these are available on the Internet
4. The motor is brushless direct drive in the rear wheel
5. The frame carries a 2 year warranty (excludes accidents or misuse). Shocks are warrantied for 6 months. These bikes have been tested and passed all CPSC requirements for Ebikes
6. The rain Ponchos are $20.00
7. The back tail is a little small for a storage unit however an extension can be added. Price unknown at the moment. I do have small cargo carriers
8. I have no Lithium battery packs at this time. The price is around $900.00 installed locally.
What do you think.
Also, Free delivery...to my house and service after the sale.
All opinions welcome.