I've always felt that Better Place was doomed over the long term because of a couple flawed assumptions: a) that battery packs would always be expensive, b) that battery packs would always be slow to charge. The company seems to actually be doomed for a different reason: a) poor sales, b) high debt, c) high high cost of building battery swapping stations.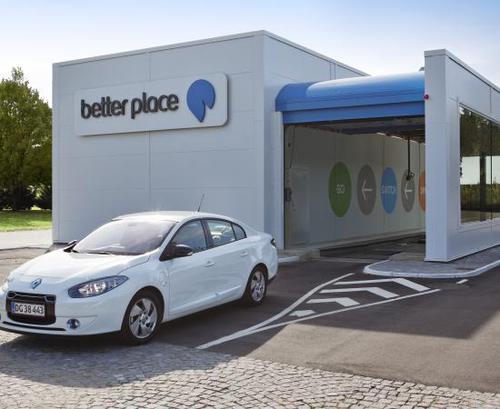 I just posted a news article talking about how Better Place's main investor, The Israel Corp, is demanding that the new CEO Evan Thornley must rewrite the business plan.
http://www.torquenews.com/1075/better-places-and-new-ceo-rewriting-business-plan-under-orders-israel-corp
In mid-October the founder, Shai Agassi, was ousted first from the CEO position and then from the Board
http://www.torquenews.com/1075/shai-agassi-resigns-better-place-board-following-resignation-ceo-post
Since then there's been a major shakeup with several other departures, and the Israeli press running several stories about how badly off the company is. They'd planned to sell 4,000 Renault Fluence ZE's in Israel in 2012 but managed to sell less than 500. The company is running a steeper debt than expected, and investors and creditors are worried over the company's survival.
One thing I found was a report on the cost to build each fast battery exchange station: about $250,000
http://www.globes.co.il/serveen/globes/docview.asp?did=1000802153&fid=1725
I know from other reporting that the cost for fast charging station installation is under $100,000 and falling fast. Now that the SAE DC Fast Charging standard is in place the price for fast charging stations could start plumetting in 2015ish as several electric cars with that charging port will be on the market by then.
Also I noted that the Renault ZOE, which was introduced at the 2012 Paris Auto Show, was unveiled with Fast Charging capabilities front-and-center with nary a peep over fast battery exchange capabilities. Previously the ZOE was described as having fast battery exchange. The fast charging relies on a 43 kilowatt three phase AC on-board charger and can recharge the ZOE in a half hour or so. With that kind of fast charge one wonders just why a fast battery exchange station would be needed?
http://www.torquenews.com/1075/renault-zoe-crowned-best-green-car-2012-paris-motor-show
Which led to a kooky theory of the week posting on my blog asking if Renault is backing away from Better Place.
http://blog.longtailpipe.com/2012/10/is-renault-backing-away-from.html
Other articles:
http://www.torquenews.com/1075/shai-agassi-resigns-better-place-board-following-resignation-ceo-post
http://www.jweekly.com/article/full/66901/better-place-to-lay-off-up-to-half-its-staff/
http://www.haaretz.com/business/can-the-israel-corporation-be-saved-from-itself.premium-1.476087
http://www.globes.co.il/serveen/globes/docview.asp?did=1000798389&fid=1725
http://www.haaretz.com/business/better-place-s-deputy-ceo-quits-1.478015
http://www.globes.co.il/serveen/globes/docview.asp?did=1000800395
http://www.haaretz.com/business/ceo-better-place-to-start-looking-for-new-direction-1.479146
http://www.haaretz.com/business/israel-corp-threatens-to-stop-cash-infusion-into-better-place.premium-1.481055