I was able to take a brief test drive of the Ford Fusion Energi, and even briefer drive of the C-MAX Energi, today. According to Ford it was the first opportunity for Journalists to drive the Fusion Energi. For some reason they think I'm enough of a journalist to let me in the room ;-) ...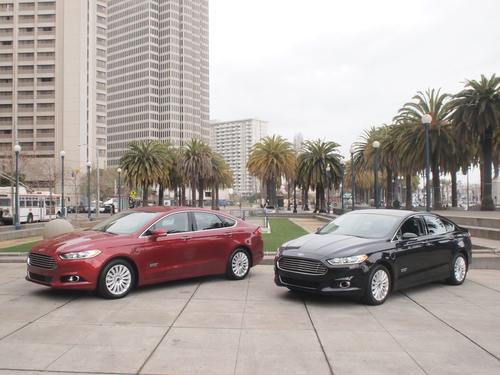 Basically - Ford's strategy is to take their regular cars, and manufacture them with an electrified drive drive train depending on how the customer configures the car. This means the Fusion Energi is the same as the regular Fusion.
The electric range is 21 miles - which isn't quite enough for typical daily driving. This means the typical driver will have to charge during the day in order to fully avoid burning gasoline.
Performance is pretty darned good - though we were only able to drive around the city, not on the highway. It handled San Francisco's hills with ease.
Full details:
http://www.torquenews.com/1075/2013-ford-fusion-energi-first-drive-good-car-great-electric-driving-abilities
The C-MAX's (Hybrid and Energi) are almost exactly the size of the Toyota Prius v. But, Ford claims, they have higher fuel efficiency and the E-MAX Energi has a longer electric-only range.
I drove the C-MAX Energi and Fusion Energi back-to-back. The Fusion felt like a regular sedan, while the C-MAX has more room, more headroom, the seating is taller, and in every way it felt like a bigger vehicle. The window arrangement also gave great vision all the way around.