Hi there,
My Vectrix has a new life.
After running for two years with the original "cell killer" software, the current Nimh pack suffered a capacity reduction of about 20%.
Even after changing to a new firmware, the damage was there and I could do nothing about it. The range was about 50 kms, but not too fast. At a faster pace, the red light would come on at the 30 kms mark. And since I have a final climb up to my house, the pack was getting to a very low voltage (under 120v under load) each and every day.
Having a pack that wasn't dead but that required a huge self control with the throttle was a pain in the...well, you know! :D
I had to do something!
My option was simple. I had to upgrade do lithium! But let´s face it, it's a big investment. A 40Ah pack+conections+BMS+labour would cost me at least 3.000€. Maybe more. And that is with the weakest cells around. With the real good ones (A123), I was looking at a bill of 4.000€ or more.
I was getting sick with the idea of throwing away the Nimh pack that was still able to charge 2.5kw. What if...
Again Fuel Free Motos came to the rescue with a fantastic solution.
"Would you like to try a small A123 pack in parallel with your Nimh pack?"
YES!!!
The problem was how to fit the pack in the bike, without stealling space from the trunk. The solution was fantastic: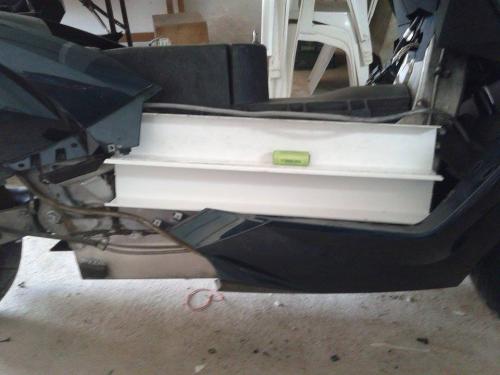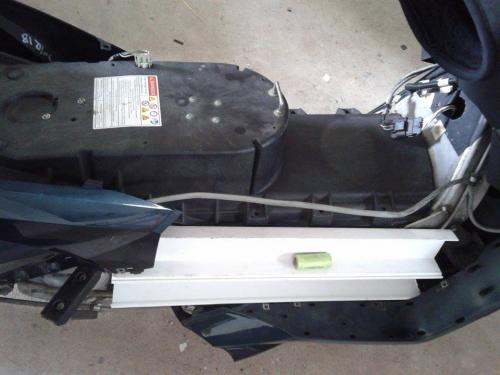 Placing a PVC wire gutter to fit the A123 pack between the Nimh pack and both footrests: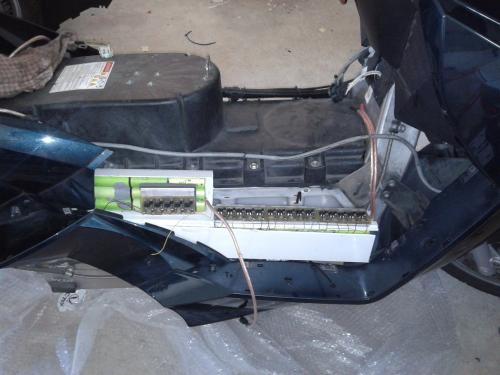 All protected by a in house built BMS. The pack is 40S3P configuration of 2.3Ah cells, giving an extra 917w to the pack.
The result?
Well, it looks like a new bike. I've done about 300 kms with it so far and it is...FANTASTIC!
Range is up 20 kms to 70 kms.
Aceleration is better, since the working tension was raised a bit.
The low limit (red light) of the pack was also raised from 115v to 118v, but I wasn´t abble to go lower than 122v. Very good.
I was able to do a 51 kms trip at 60kms/h average speed and still had 15/20 kms left in the tank.
The downside is that the bike is 9 kgs heavier, but since I ride 99% of the time alone, i'm not very worried about that.
And the best of all is that for a fifth of the cost of a full conversion to lithium I have a "new" bike, using the original Nimh pack.
And if I do convert to lithium in the future, I'll have more than 100kms of real world range!
All done by those fantastic guys at FFM!