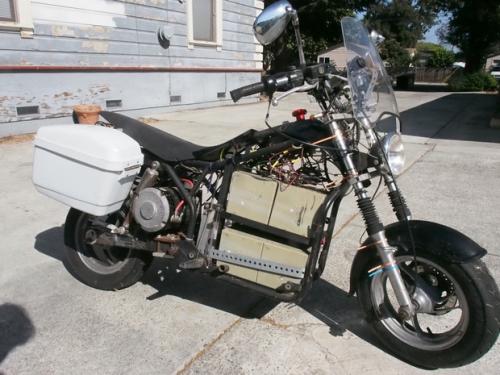 I need to sell my motorcycles, including the Lectra motorcycle I built a few years ago. If you look around this site you'll find postings I made during the build process.
The Lectra was a commercially manufactured electric motorcycle from the mid-2000's. This is not a conversion bike, it's not a Honda or whatever that someone rebuilt as an electric bike. It was designed and manufactured as an electric motorcycle. The original company, Electric Motor Bike, built and sold about 100 of these bikes to the public as the Lectra VR24. Then ZAP bought the company and proceeded to run it into the ground. How sad.
So far as I know my bike was not one of those sold to the public. When I bought it, it was a bare frame with an Advanced DC motor, and while the previous owner did have it registered and running it wasn't with the official Lectra drive train. He stripped the bike before selling it to me. The build log you'll find elsewhere on the site concerns how I arranged a lead acid battery pack, controller, wiring and dashboard.
One clue telling me it hadn't been sold normally is that the VIN is a special California VIN. It may be this bike can only be registered in California.
Current status:
Advanced DC A89 motor - this is a 6.7" diameter series wound brushed DC motor capable of over 100 volts and I'm not sure what power
48 volt 50 amp-hour lead acid battery pack that's very weak but still provides a decent riding experience and will prove the bike runs well
Alltrax controller rated for 72 volts and IIRC 350 amps
Cycle Analyst for the dashboard
Saddlebags
Odometer reads about 3,300 miles
The bike had previously had a 60 volt pack, but I let it sit for a long time and self discharge did a number on the pack, including killing one cell pair. I apologize. The 48 volt pack is what's left after that fiasco.
With a 60 volt pack it would do 50+ miles/hr and rode like a dream. The pack was rated for 3 kilowatt-hours and would give 10 miles range. Why lead? The build was done in 2006-7, and lithium simply wasn't as available as it is now.
This bike is screaming for an upgrade - at least to a lithium pack. One might think of a newer motor/controller combo as well. For example, Motenergy has some excellent motors that should slot right in, as should an AC15 or whatever kit. The motor mount is on the swingarm, and I believe it has a normal NEMA face mount pattern. That means it should be simple to install a different motor. The motor on the bike is great, and it does have quite a lot of power.
The sides are naked - yes. I do have 3 complete sets of covers, but never installed any of them as you can see.
Location: Santa Clara, CA
Contact: david -at- davidherron -dot- com