In this topic I will show my 42 Calb Cam72 cell conversion. I used an Elcon 2500W charger and a Mini BMS system. The BMS main board is powered from the DC-DC converter, but during charging it is powered by a switching 12V power supply from the grid.
This is how the charger fits.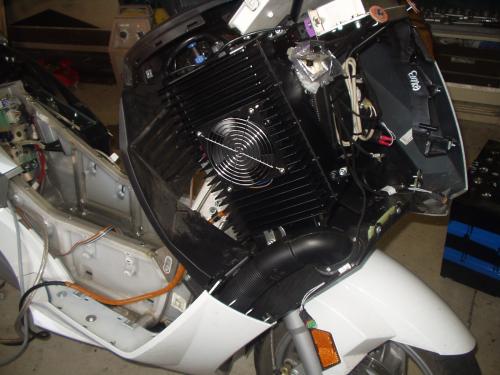 The cells are bedded in closed cell foam and have a snug fit in the frame. In this way 38 cells can be put in the bottom. Top right in the picture below an extra fuseholder can be seen for the charger DC wires. The DC charger wires are not going to the motorcontroler anymore but directly to the battery: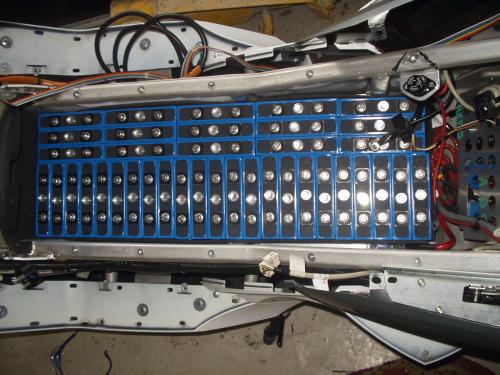 4 cell are on the "second floor". The bottom layer of cells have spacers and a polycarbonate sheet on top. The botom layer of cells are blocked on the top so they can't move up when riding over a bump or so.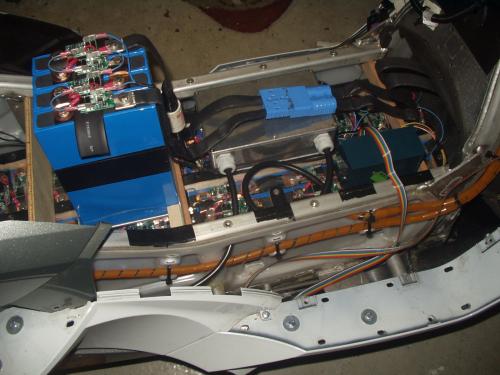 The picture above is taken during the conversion (not ready). As you can see the 4 extra cell are wired in series with the bottom pack using the Original anderson connector. The fuse is not in the motorcontroller anymore (replaced by a copper strip) but "in the middle" of the pack. When it blows, it is simple to replace.
In the aluminium box is the BMS main board, the AC-12DC power supply and the solid state relay to switch off the charger when the BMS kicks in. In the other (plastic) box the Arduino for the SOC meter is housed (more on that later). As the HV wires of the 4 top cells could be rubbing the aluminium box, a piece of plastic is put in between to prevent short circuits (not shown on the picture).