After searching a couple of weeks it seemed that a Leaf conversion was not so easy because these cells/modules are very hard to find.
Apart from that the Leaf option would only bring me 60Ah and about 100km usable distance per charge.
Because I wanted more I decided to go for the Li-Ion route with my own to assemble pack made of hundreds 18650 cells ;-)
The parts that I would need are:
- many many cells of the type 18650
- CD tab welder
- nickel strips 0.15mm
- busbars 4mm diameter of pure copper
- hotmelt glue pistol and glue sticks
- some soldering iron
- a LOT of time... but thats was just a guess ;-)
I ended up by buying 1050 cells of the Samsung 29E type. These are 3.7V and 2850mAh.
This would build me a 35S30P pack, so 35 cells in series and 30 cells in parallel.
In total 130Volt and 85,5Ah pack which would mean about 150km of distance. Now we're talking :-)
Yesterday the cells arrived. Well not all of them, the first batch of about 800cells. The rest is to expect next week.
Because of that i decided to build rows of 8 cells each instead of 10 cells.
Three of these rows would be parallel connected to create what i call a module. Each module is then 3.7V and 68Ah (with 8 cells) or 85,5Ah (with 10 cells)
For the busbar connection between the modules I would use 2 * 4mm copper wire. This would be enough for about 240A maximum.
I had a hotmeld glue pistol but that was just a small kinda thing with 7mm gluesticks. So I decided the spent some serious money and bought a brand new 11mm hotmelt gun at the Action store for just... €2,39...
Well for that kinda money why not buy some pack of 10 sticks for just €0.99. per pack with it...
I first created some stand to hold 3 rows of cells. This way I could line-up, glue and cool down 3 rows of cells at the same time.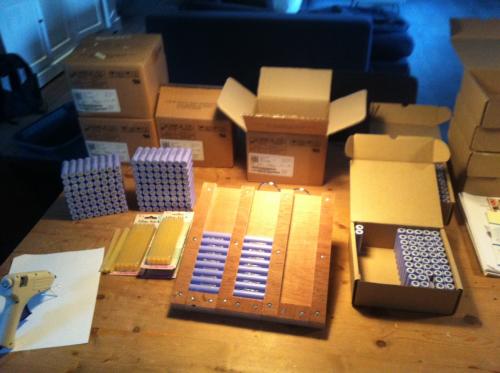 By glueing 3 of these rows together would create the module.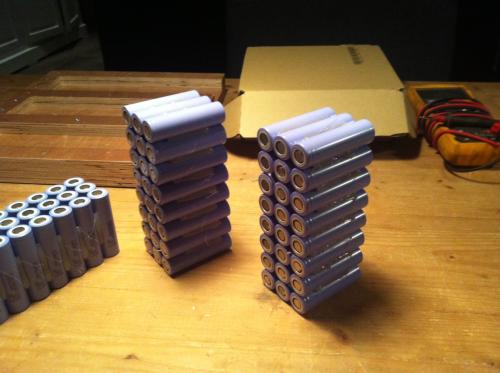 Lateron I will add the nickel strips and busbars and probably shrink-wrap each module.