I have an OpenEVSE kit -- two of them actually -- and I went to use one yesterday to charge my car. I'd successfully used this OpenEVSE several times to charge my car, but this time the display showed NO GROUND and refused to work. Hurm. It did not matter which power outlet I tried. As soon as I connected the OpenEVSE to the car, it would display that message. Hurm.
This morning I checked the wiring using an ohmmeter. I opened the case to expose the inner wiring so I could check the connections through the cables and to see if any of the cables had gone bad.
For the J1772 cord the three connections -- two hots and a ground -- were all correct. But with the NEMA 14-50 cord on the input side, there were strange readings. Ground was not connected at all, and the two hots did not seem to be properly isolated from each other.
The NEMA cord had a plug that you unscrew to open up. Doing so I found this: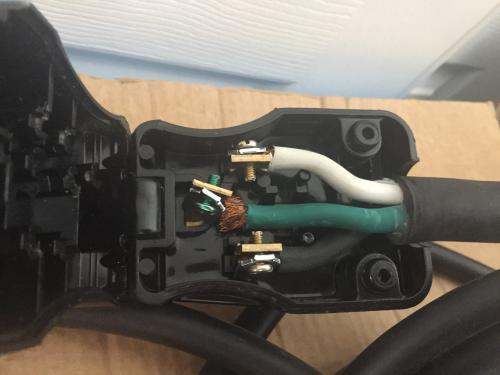 Basically the ground wire - green - was not correctly connected to its connector. It was cut to be the same length as the others.
I suppose what happened is it may have been accidently working for a few times then something happened so the green wire moved away from its connection and there was no longer a ground connection and it instead was floating kind of loosely. I'm fortunate the power outlets are all GFCI protected.
Thoughts?