Piaggio Hybrid Scooters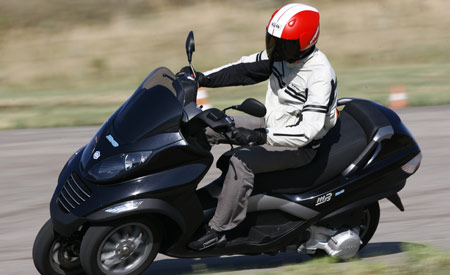 Dump that gas-guzzling Prius...
By Bruno de Prato
August 2007
Remember when filling the gas tank on your bike cost four dollars? That will probably never happen again (unless you have a one-gallon tank), but last year Piaggio announced it was testing some prototype hybrid scooters. Since then, Piaggio's technicians have gone a few steps farther, honing the power unit and related electronic-management systems and installing them in their super-stable MP3 three-wheeler. This 250cc prototype, dubbed the MP3 HyS (for "Hybrid Scooter"), is the largest hybrid they've tested so far; the previous prototypes were based on the tiny Vespa LX50 and middleweight Piaggio X8 125.
The production MP3 HyS will use the same 125cc/electric hybrid powerplants as the smaller X8 HyS, but its structure and surefooted chassis will better handle the extra mass and weight of the large battery pack and other ancillaries. At this stage the battery pack still uses heavy lead-acid cells, but Piaggio is hard at work with specialists in the battery industry to obtain reliable and cost-effective lithium-ion batteries. These should have 40 percent less mass and weight. The rest of the project is almost finalized and has been tested to the point that Piaggio confirmed to me that they will put their MP3 125 HyS into production by the end of 2008.
They also let me test the three different hybrid scooters they've developed so far. Of these, the most interesting were the tiny Vespa LX50 HyS and the MP3 HyS. Power comes from the standard internal-combustion engine teamed to a 2-hp electric motor, which is tidily inserted in the hub of the rear wheel so that the standard CVT transmission can remain in place. The two power sources work in parallel and the pilot can select the operation mode best suited to his needs by simply rotating a rheostat in the dashboard. In full-on two-motor mode, performance increases can reach up to 85 percent, primarily on acceleration, when the electric unit delivers gobs of extra torque.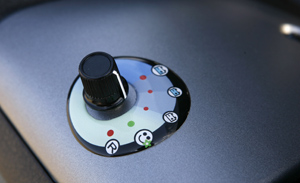 This little knob lets the rider select the power mode. Options on the MP3 are "Balanced Power-Recharge," "Priority to Power," "Priority to Recharge," "Electric Power Only" and—because of its three-wheel configuration—"Reverse."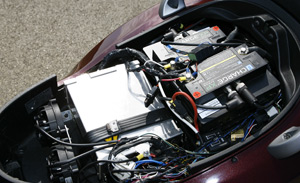 Now there's less room to stash your helmet or gallon jug of soy milk, but triple-digit fuel economy should make up for that. The X8 HyS has sufficient room for a helmet, and the Vespa LX50 HyS comes with a top box for your lid.