President Clinton Announces New Initiative: CGI U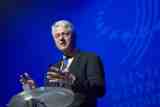 CGI U
U Can Cause Change
"Today's generation of young people holds more power than any generation before them to make a positive impact on the world. It is my hope that through CGI U we can harness this power to improve the lives of people around the globe and build a stronger future for us all."
- President Bill Clinton
Each year, the Clinton Global Initiative convenes a diverse group of world leaders to examine today's most pressing global challenges and transform that awareness into tangible commitments to action. While CGI has been very successful, President Clinton believes that efforts to address these pressing global challenges must include the next generation of leaders.
CGI U is a brand new initiative designed to engage college and university students on some of the most urgent issues facing the world today.
CGI U is a platform for action. For two days in early spring, President Clinton will host students, teachers and administrators from universities and colleges around the world and encourage all to make commitments on the issues that concern them the most.
Inaugural meeting of CGI UHosted by Tulane University
At the inaugural meeting of CGI U, hundreds of young people and university officials will come together, ready to make a positive difference. Building upon CGI's mission to bring attention to areas with the greatest need, CGI U has chosen to launch in New Orleans, a city that witnessed both the natural disaster of Hurricane Katrina and the national recovery efforts in the months that followed – a recovery that continues to this day.