Hello V..
My first post to this forum, however I have been a regular visitor for long time but never joined until today. About three years ago I was biking home after work, suddely some guy passed me with his old military bike and I now this type of bike it is withot any gears and hevy as h..., after catch up at the stop light I could have a better look at the his unit - suprice it was electrical, some kind of homebuilt. However this gentleman planted one idee, this ideea has grown stronger every year and I want try to make my own e-bike.
Nevertheless, I always bike all year round, It dosent matter if it snowing, storm, raining 7" nails, or minus 35 Deg. I love to bike exept when it is crap-wheather.
The first problem is limited funds, two kids one car one house etc etc, so for the moment spending money on "what my wife should say unnessesary things" is not high on the priority list. My idee is to design my bike (fun to plan fun to build). Another problem has been to find a suitabel motor without any money, I have searched for an engine during the last year, and suddenly I em very happy owner of a second hand engine... He he, cant stop the grin on my face....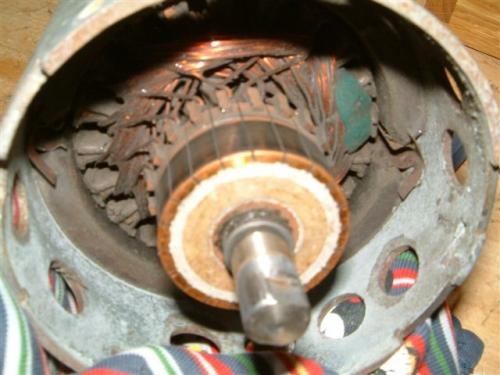 The Bosch GPA 24 part no 0 130 302 013, this motor was used in a permamobile, "very used" see pricture, the motor has built in fan for cooling but the mounting of the engine was in a open area so all road dust etc was sucked into the engine, it is extremly dirty.
No1. I have heard that if you remove the rotor you will destroy some of the magnetic field, the engine will run faster with lower torque. is this true on this kind of motor or is the statament just! I have not yet removed the rotor.
No2. Even if above statement is tru I em forced to totaly disasemble the engine, there is lots of debris/dust/inside. what is the best way of cleaning and what shall I think about during this.
No3. Is there something else that I should be aware of when I cleaning / assemble the engine. Tips wanted.
No4. What shall I do with the brushes?
No5. I have in my possesion nice Hakwer SLA batteries, they are normal 12 volt. what is the best way to charge a battery, paralell as I have read somewher or in my case I have one 24 volt charger, in series but how do you know that the cell voltage is within limit, the batteries can have different internal resistance and then you will overcharge one battery, or?
Sorry long post and spelling as a drunk duck.
Regards,
Mikael