I have a Z20, and would like to know if there are any benefits to increasing the size of wiring used for the batteries or other components. I went through previous posts and came away with conflicting answers.
Is there a performance improvement if I go from 8AWG to 6AWG? I still have to wire the bike for bank charing and install the PakTracker - so it would make sense to upgrade the wiring at the same time. Is it worth the extra effort?
My Z20A came with 8 gauge stranded wire, they don't use solid lugs but flimsier ring type connectors. I haven't ridden the bike yet, so I don't know if the wires get warm.
If a wiring upgrade is recommended here are a couple follow-up questions:
- What gauge wire is recommended?
- Does using a cheap ring connector versus a real lug matter [copper ($2/pair) or tin plated copper ($6/pair)]?
- Do all wires between batteries need to be the same length to keep resistance equal between batteries?
- Do the wires going to the controller and motor also have to be upgraded to see a performance gain?
Since the bike is new and folks are finding flaws in other areas of wiring configuration, here is my attempt at providing a representation of the Z20a's battery wiring scheme. I've seen references that say even the wiring configuration matters to equally load the batteries, so confirmation that it was correctly done at the factory would be reassuring.
Battery View (Z20A)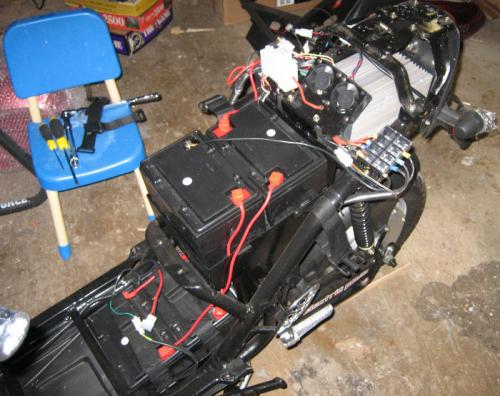 Battery Config - Side View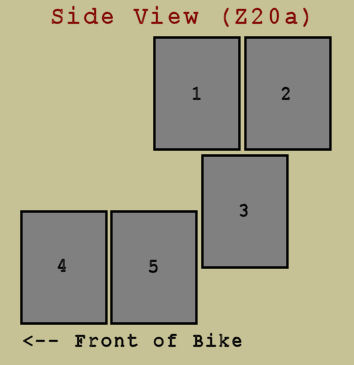 Battery Connection Config