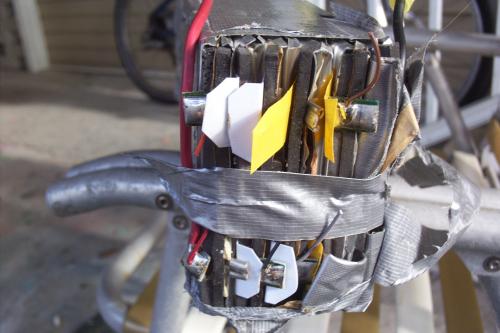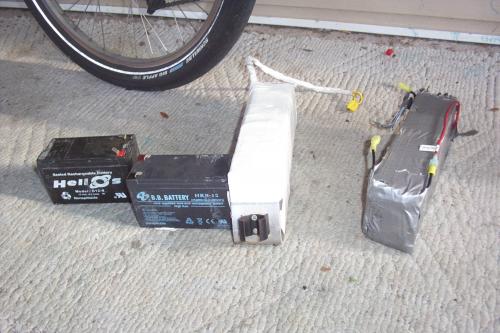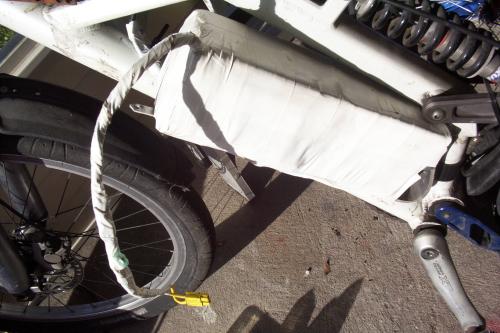 The white battery is 36v10ah, is plugged in series with an identical one I I don't have to charge at work now. I ride 5 miles and then park, and then ride home, has same brisk power at end. Perhaps range would be 15-20 miles at stop and go 20-30mph urban blast. My 72v 10ah battery was 89v this morning...I have to tie down stuff in my basket better. I got some great exercise this morning...no gas to buy...
This battery is perfect for ebike, this one rated for clyte brushless 409 rear motor, so I can 2hp , and close to 35mph, whisper quiet,
This battery would be perfect for go hub or wilderness energy 36v hubmotor...I can't help but wonder of my bike with a 406 or so with a simple 36v battery , because this 72v eats up power,
the silver battery is I cut the parallel 5ah cells and reassembled the whole thing as 24 single cells in series...thin little foil pouches flat with little foil power tabs, no bms, on first charge after short bike ride at 20a draw, no problem, then charge on 36v sla charger ( 2 36v halves of battery from series to parallel ) and all cells are equal at 3.4 volts, and then float turns on, but not sure how much charge battery gets, resting voltage at 40.5 or so. The foil pouches are stamped 4950mah 3.2v. no heat or smells observed. I could put bms , but will put this battery to 20a ebike test.
I will make mount like the white battery that clips to rear frame post and then pivots into center of frame, fits snugly, then battery can't come off, can only be pushed horizontally, so cable tie holds the taped in aluminum thin bar around frame tube in the front...the battery goes on or off easily and is secured well,
I would be careful about putting a 48v ping battery for 36v cylte controller with 55v mofsets, because his 48v battery will surely eclipse 55v after full charge..