Does anyone know if a conversion to electric has been tried on a Yamaha Virago?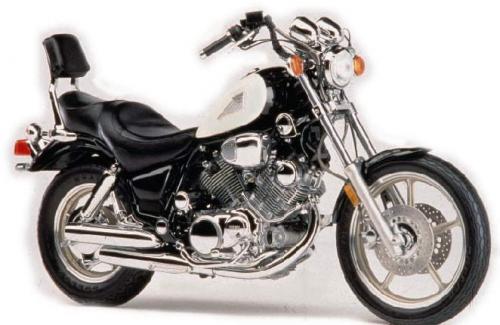 I believe this bike might be an ideal candidate for the "conversion kit" idea Andrew posted at: http://visforvoltage.org/forum-topic/general/668-ideas-get-evs-road
Andrew wrote:
Another way is to refine a conversion plan. Then mass produce many of the parts that are needed. For example, I could manufacture 1000 aluminum motor mounting plates, controller mounting plates, charger mounting plates & brackets, ect for my motorcycle. Then someone could buy these and install them, along with the plans. The plans would not be general ideas, but specific step by step instructions. All components would be bolt on.
There are several reasons for this:
I had a look at used motorbike dealers and on ebay - there are plenty of old Viragos for sale in Australia and elsewhere.
They do not seem to go up in price once they get older like the BMW's I've also researched.
The XV535, XV1000 and XV1100 have a drive shaft, and some have double front disks.
They also come in smaller engine versions with chain drives. I am not sure how many frame sizes there are.
The engine looks large and heavy and frees up a large space for installation of batteries etc.
The tank is small.
There are very few electronics on the bikes to cause trouble.
Apparently they have some potential engine/carburettor/starter engine problems, excessive vibrations etc. but they are all related to components that would be removed for an electric conversion.
I have not found any reports of frequent problems that relate to frame or suspension of the Virago's, but it's early days in my research.
The frame is "unisex" - can be ridden by people of various sizes.
The overall shape of the bike looks like it lends itself to addition of streamlined fairings.
Mr. Mik