I bought two of the VEC1087CBD 12v 10/6/2 amp chargers at a local Lowes, and another six from Boat and RV Acessories. Two of the six I bought from Boat and RV Accessories are not performing like the others, and I'm warrantying them. It's not the distributors fault, they just had them drop shipped to me, and I'd do business with them again. I'll give more detail below. This is only a preliminary review. The chargers have not been tested for a long period.
*Note: The ones I bought appear to have silver colored smaller clamps, so appear to be an update from the older ones sold with the same model No.
Here's one of them (actual unit):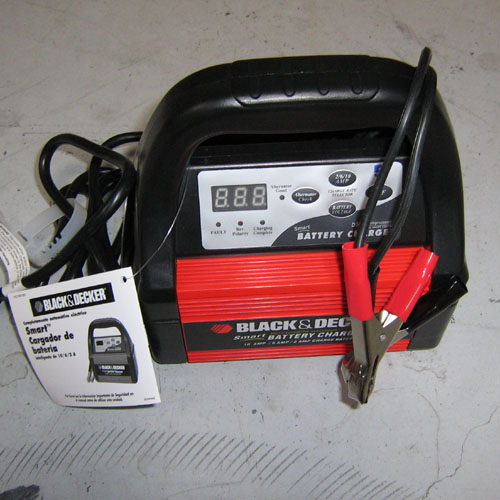 The Good
I like these chargers. They are quiet, have a fan to stay cool, and seem to have a very good charging algorithm (more detail below). The initial apparent quality is good, and they appear to be rugged. I wouldn't expect them to fall apart.
They come with the power cord, and battery cables nicely bundled in the plastic tray. I didn't care to rebundle them though, and just wrapped the cords around the charger. All of the plastic is nice for carrying the charger around, but I'll remove it all when I mount them on my bike. Actually, the plastic is a really nice feature, it gives us flexibility to downsize the charger easily. The orange thing contains the electronics and can be separated from the rest.
The display is a very nice feature. It displays charging current by default, and voltage with the push of a button for 3 seconds. But the what's really useful is that it gives more detailed in the form of fault codes if something is wrong. B&D included a nice little card for quick reference of the fault codes so you don't have to go digging for the manual. It properly detected that a bad battery of mine has an open cell.
The fan speed is controlled which helps keep the charger cool, and probably cuts down on fan bearing wear if the charger is left connected indefinitely. It also keeps the charger cool when pumping full amps.
The CV stage current tapers to about .33 amps (average of my working chargers), which is low enough to fully charge most batteries in cycle use.
According to the spec of 190 watts max, the charger is efficient at about 80% efficient.
These chargers don't hold a constant float voltage, instead they pulse a float charge when the battery voltage drops too low. Why is this good? Because a constant float charge can potentially slowly cook batteries if the voltage is just slightly too high (or the ambient temperature rises). This means these chargers can be left connected to the batteries with no potential to damage them, provided the chargers are working properly.
The chargers do diagnostic tests during charging, at which point they beep and stop charging momentarily. They don't do this excessively.
If the power is interrupted the charger will reset itself and charge at the lowest rate after a few minutes.
The chargers have a charging time limit to 18 hrs, meaning they won't cook batteries indefinitely.
Charger has overheat protection circuitry, and displays fault code.
Short circuit protection---No need to worry about touching the charger clamps when the charger is not connected to a battery.
Vector or B&D must of made an improvement without changing the model number. I used an older 1087CBD (same exact model number) which had copper colored clamps, and the fan makes a loud noise sometimes. All of the new chargers are quiet. They have smaller, silver colored clamps than the older one.
The Bad
2 of 8 chargers need replacement, that's 75% chance of getting a good charger. Not very good, and it may take careful testing to determine which are good/bad. And B&D is a proving to be a pain to deal with.
There is a considerable variation between each charger's CV, and what the CV stage current tapers to(more detail below).
B&D or Vector don't provide any spec sheets (or I couldn't find them), and don't define what the CV should be, or what the CV stage current tapers to.
The displayed current reading is inaccurate below an amp or two.
When the charger displays "Full" it is still finishing the CV stage. If you hit the display voltage button than it usually stops finishing prematurely.
The fan never stops running. This means the charger will always make noise if left on the battery for long periods.
Having to push the current selector button every time for charging can be annoying, especially with 6 chargers.
Beeping can be annoying.
More Detail
Here's a listing of each charger's CV, and what the CV stage current tapers to before the charge current stops (finished charging).
No.1: 14.81v, .34 amps
No.2: 14.9v, .19 amps The CV is higher than the others, and the current is considerably lower. I'm warrantying this one.
No. 3: 14.75v, .3 amps
No. 4: 14.8v, .42 amps
No. 5: erratic, 13.75v, 1.25 amps one test, 13.6v, .4 amps another test. The display is also messed up, and the fan runs slower. Warrantying this one.
No. 6: 14.74v, .27 amps
Lowes No. 1: 14.68v, .35 amps
Lowes No. 2: 14.56v, .31 amps
Average of Chargers (except 2 & 5):
14.72v, .33 amps
The CV, and CV final current appeared to be the similar for all of the charge rates selected (2, 6, or 10 amp).