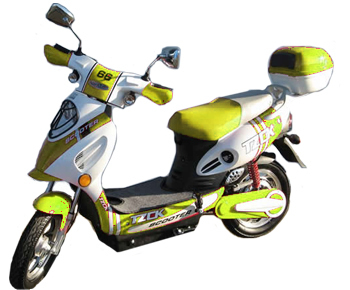 Greetings!
I always have a tough time trying to find reviews on all the silly gadgets I collect. Things like gps devices, cell phones, and most especially- electric bicycles. It's not that reviews aren't around, it has more to do with the kind of gear I steer towards. My GPS is a Mio hacked to include video, games, contact info and other applications, the cell phone is more like an all in one wifi/bluetooth/3g unit, and my test e-bike is a scooter style Kaishan sport 500. Well, I'm fortunate to have the Kaishan for an extended time while my other e-bike is in the shop, so it' time to put font to screen and do what I can to review the bumble bee- called this because it's yellow and black.
Let me tell you I've owned two e-bikes and this is my third ride- so I have some history with these machines. My first came from ecycle.ca and it was a skinny tired, tiny torqued, slow moving vehicle that I wound up cursing more than praising, especially on rainy January days in Victoria BC, when the back tire would flatten and I'd have to ask my wife to come and pick me up with the car. These were first generation bikes, and they thumped and rattled over even a smooth road. The brakes would squeal enough that people would plug their ears, stopping distance was unsafe, and I could never adjust the mechanicals to change any of this. I had mixed feelings when it was stolen. Glad to see it go, but mad that my home policy covered bicycles but not ones with electric motors.
Next, or current, was the Motorino from e-ride.ca. A good 2nd generation machine, not without problems, but once mods were added, it got me to work and back with good torque and speed- two qualities that help with the hills in Victoria, and keeping up with traffic when necessary. However, I did get the odd flat until a new tougher back tire was added, and I went for the extra batteries that I really needed to increase the range. But now this bike barely gets me 20km, and I may have to make another decision!
But back to the Kaishan, the star jewel in the collection of bikes I've ridden. In a word, 'oooo'. Let me tell you, e-bike buddies, this may be the beacon that we have been looking to follow. It's a bit embarrassing to be a reviewer and have few tough things to say. First, and a mantra that I always follow is 'know thy dealer'. As with dentists and auto mechanics, it's a trust relationship that will last for years. The seller needs to keep the business going, while the purchaser needs to be reassured in buying out front technology that has yet to become established. I know I'll turn Todd red by complimenting him but it has to be said- "Your a reputable dealer, know your product, and stand behind everything you sell." If I were unable to move my bike because of a flat tire, the shop would come around and pick it up. If I was stuck for transportation, I could always take another bike for a short time. When it came time to pay, the price was fair and everything was explained. Even the website (www.scooterunderground.ca), is one of the best I've seen for promoting and presenting.
Now to the bike, and I'm going to say all the terrible things upfront. Kind of like eating you broccoli and cauliflower before dessert.
Well, the small carry case on the back rattles when the road gets choppy, but this is a detail that can be solved by choosing a larger optional box. The speedometer is consistent for a given speed but not properly calibrated, the front brake does occaisonally squeak, not overly so, but is noticeable. And this can be adjusted in the shop. All right, there it is. If you're turned off so far, time to buy that new Lexus with the Advanced Parking Guidance System and heated steering wheel. But this is likely not for us because we love gizmos that are small, efficient and practical!
So with that said, I think the Kaishan is a product whose time has come. Unlike earlier e-bikes, acceleration is brisk, hill climbing phenomenal, the range is impressive, and the fit and finish reveal a quality product.
The controller, or brain (the things zombies like to eat), comes with cruise control that requires a light thumb 'tap' to activate, and varies the power level to keep the bike at speed. If climbing a steep hill, the power level will max out, while a light incline will result only in a nominal change, thus the Kaishan is smart enough to have a smooth feel while travelling in the bicycle lanes through fuming SUV's that are trapped at red lights. To deactivate, tap the cruise button or the brake lever.
And speaking of acceleration, pickup is brisk for 500 watts, the most allowed in Canada. Brushless hub motors must have improved lately- I've test ridden a few bikes and nothing is like this. All this power from a motor with one moving part. It's also worth noting that an average person can continuously produce 100w while a champion cyclist can generate about 400w.
Range is to the point where I no longer worry about carefully nursing the accelerator grip, I just go. I haven't taken it to the limit but I did go for a long 40km ride and the 'battery' gauge still read full when I arrived back home. So I would estimate at least 60km before recharge on the provided 22ah 48v batteries. For added distance there is an economy switch, which basically throttles the top speed to about 20km/hr, as opposed to just over 30km/hr with the normal setting. And for charging I just plug in at night. Below is my 40km+ ride around Victoria, BC.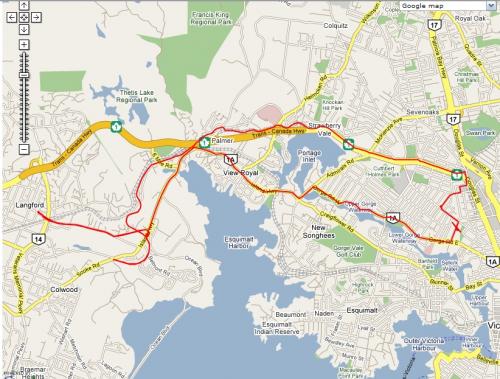 Hill climbing is also impressive. I was able to slowly travel up the 'Incline of Doom'; a stretch of road between Peppers food store and the University of Victoria- people who live here will nod to show respect as we can appreciate the difficulty and hopelessness of pedal biking this slope. Although the Kaishan does not laugh at the hill, it does chuckle a bit as it crests the apex. The picture below does not convey how steep this grade actually is, but a guess would be around 8%.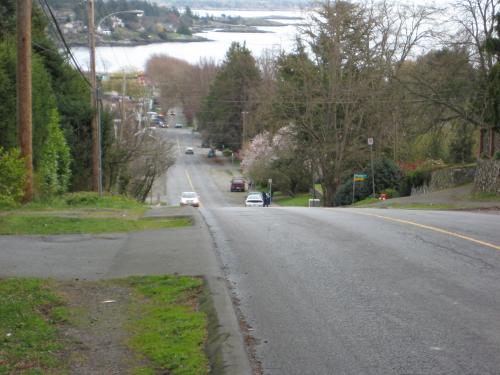 And finally I can mention that the brakes feel solid and secure in all situations. Regenerative braking has given away to higher quality parts and better system of drum/disk brakes, but I do misss regen not for adding energy back into the battery, but rather as a squeak free and brake saving device.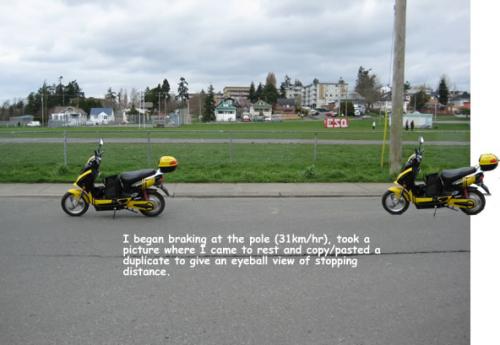 So that's about it. Twist, go, brake and repeat- so far so good. I'm wondering what people think- I know there's a lot of resistance to the Chinese bikes, and I'm sure some people prefer a made in USA product. I'm curious myself to know if the bike will last for over three years, a kind of break even point. But I'm less concerned because I have a dealer who delvers after sale service and works with the customer for any parts, mods or changes that the buyer may request. For myself, this meant adding a 12v plugin, a hook to hang grocery bags on, and a cycle analyst electronic meter to measure energy, range and speed. So, with all this said, everything keeps coming back to service and the dealer. As for the bike, it is everything I need except for an advanced parking guidance system and heated steering grips. Dale
UPDATE: Bought the Kaishan, was given a fair trade price for the Motorino, and everything is working well. I did put the bigger basket on, which took away the rattle!