I just got my "scratch and dent" x-600 yesterday and I want to troubleshoot a battery issue (already! wahoo!).
I'm a novice when it comes to putting a meter on what wire to figure out if current is where it needs to be.
Here is the battery compartment consisting of Three 12 volt, 12 amp SLA batteries. It's touted as a 36 volt system.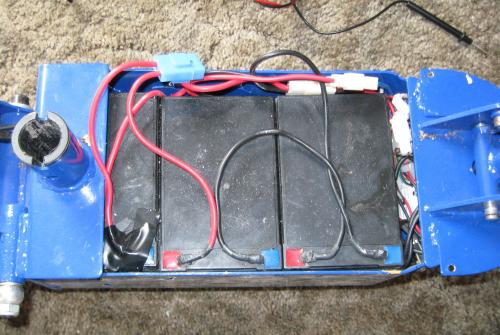 The stock indicators near the accelerator indicate things are peachy... but the motor starts to lose power fast and then nearly bottoms out if I power it (by lifting the back end and running the wheel in the air). 36v light is solid red, the battery indicator shows "Full" with solid green.


I took the scooter out this morning after letting it charge all night and it ran ok for about 3-4 blocks and then it started trailing off quick. So there's something going on. I'm waiting for tech support from x-treme, but I figured I'd run it by you guys and see what I could trouble shoot on my own. With my novice skills :P
Feel free to leave me links to other discussions similar or maybe web links.
I appreciate the input.