Scooter Hybrid: Gas and Electric
I was thinking about this the other day, while I was contemplating the idea of getting stranded on my e-scooter and having to push the that all the way home.
It would be nice to have the gas as a backup in case of something going wrong with the batteries or something along those lines.
A little 4 stroke motor like this one http://www.duropower.com/item.asp?PID=87&FID=3&level=1 hould work. And it would only add another 8 lbs to the weight of the scooter.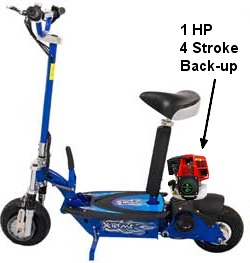 So what would be needed is:
1. A clever way to mount it and integrate it along with the electric engine.
2. Rig a control mechanism near the electric throttle.
Problems I see:
1. You wouldn't want the electric and gas engines on the same chain drive/belt drive due to the physical resistance they would place on the drive while one is being powered and the other is dormant. (my electric engine puts considerable resistance on the drive whenever I have to push the thing around on my own power)
2. Adding 10 lbs... what will that do to the overall range of the electric setup?
[size=20]Has anyone attempted something like this for an e-scooter?[/size]
I'd be interested to see what the results were.