... If this post is not in the correct sub-forum, please feel free to move it to where it belongs. Thanks!
Anyways, does anyone here have experience, knowledge, or thoughts about the Diggler Electric Scooter? Apparently, the $1200 Alpha Dawg electric conversion has 36V and has 20 MPH top speed and 20 mile range. The $2000 Electric (batteries under the floorboard) version is 48V and goes a little better at 25 MPH top speed and perhaps 25 mile range.
Here's a link to the YouTube video -
http://www.youtube.com/watch?v=BPpjb_uZr6Y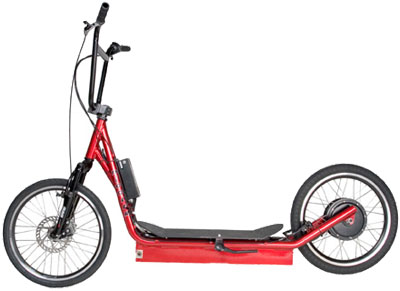 Above are a couple photos of the Electric with batteries under the floorboard version. Note the front disc brake -
Below is a photo of the Electric conversion of the Alpha Dawg version. Note that the batteries and controller are in the blac bag strapped to the frame -

Thanks for your comments!